In today's post, we are continuing with our series on the best WordPress SEO plugins. After Yoast SEO, this time we have the grand dame of WordPress SEO plugins on the review chopping block: All in One SEO (formerly known as All-in-One SEO Pack).
A mainstay on the list of most popular plugins, the plugin has been around since 2007. In 2020, it was acquired by Awesome Motive, the company behind WPBeginner, OptinMonster, and other ventures and WordPress plugins. At the time of this writing All in One SEO boasts more than two million installs and a rating of 4.7 stars. It has over a thousand 5-star ratings.
Let's see what it can offer its users
(Funny enough, I pretty much had this review ready to go two weeks earlier. Yet, in the span of time it took me to get it ready for publishing, a completely reworked version of All in One SEO came out. So I had to start all over again, which is actually good news for the plugin as you will see below.)
All in One SEO: How to Install It and Initial Setup
The installation of All in One SEO is no different than any other plugin. Go to Plugins > Add New, search for it by name, click the Install Now button and then Activate once it's done.
If you are a first-time user, All in One SEO automatically starts an onboarding wizard.
It makes you go through a couple of steps to set configure basic SEO settings:
Import data from existing SEO plugins on your site.
Pick a website category and set your homepage title and meta description.
Define important information for Open Graph such as your company name, logo, contact information, etc.
Which All in One SEO features you want to enable. Careful, some of them automatically install other plugins from the same company. Look out for blue check marks and the small print at the bottom.
Search appearance and indexing: Do you want to index your site right away? Sitemap enabled yes/no? More than one author on the site? Redirection of attachment pages?
Enter your email to take advantage of the Site analyzer and receive SEO recommendations. Optionally, switch on usage tracking to help improve the plugin.
At the end, you can also input your license key if you already purchased one. There are also buttons to take you to the dashboard, set up webmaster tools, or go to advanced settings.
Overview of the Main Dashboard
After that, you land on the main dashboard of All in One SEO.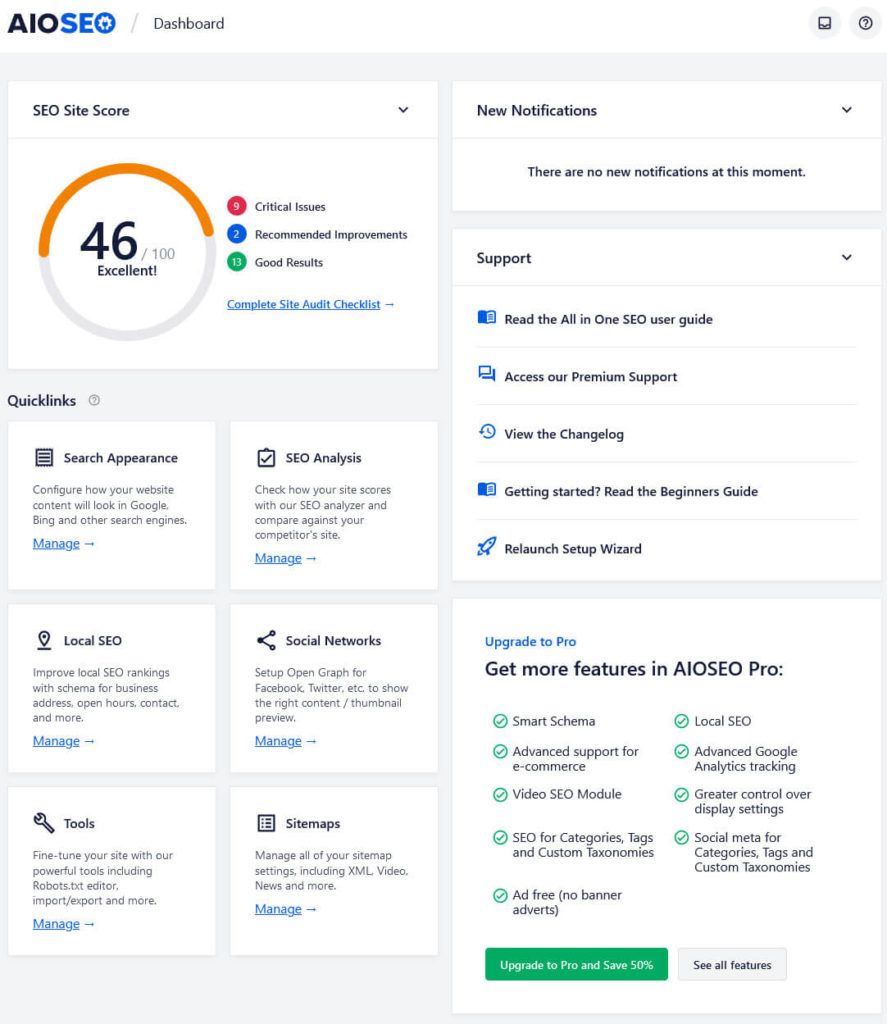 Here, you can see a snapshot of your site's SEO status and have access to plugin options. What jumps out immediately is the SEO Site Score indicating your overall level of optimization. You also find notifications, access to support resources, quicklinks to other parts of the plugin and to the Pro version.
If you need support, click the question mark in the top bar to open a (searchable) help section with links to the documentation. This is available on every page.
Available Menu Items and What They Contain
On the left, you can see that All in One SEO creates its own menu. Each menu item is divided into several tabs.
Here's what you can find inside of them (note that some stuff is only available with a Pro license):
General Settings — Here, you can do things like enter you license key, relaunch the onboarding wizard, connect your site to webmaster tools, and switch features on and off.
Search Appearance — Controls your site's appearance in search. Includes settings for title format, Knowledge Graph data, indexing settings, Schema markup, etc.
Social Networks — Add social networks belonging to your site and configure settings for Facebook, Twitter, and Pinterest.
Sitemaps — In this place, you can control everything relating to creating your sitemap.
Local SEO — Options here are only available in the paid version.
SEO Analysis — A detailed SEO site audit and the ability to compare your pages to the competition.
Tools — Additional SEO tools and plugin status menu.
Feature Manager — Allows you to enable and disable premium modules if purchased.
You can also access all of this from the admin bar menu that All in One SEO creates.
Standout Feature: Detailed SEO Site Audit
As you will see in this review, All in One SEO shares a lot of features with Yoast SEO. However, something that their competitor does not have is the site SEO audit that you can find under All in One SEO > SEO Analysis. Alternatively, click Complete Site Audit Checklist in the main dashboard.
Here, you can see the same indicator as before. It shows your overall level of search engine optimization (though why it says Excellent! for a score of 46% is a bit of mystery to me). What's more important, however, is below it.
Here, it gives you detailed information on how well optimized your site is and what measures to take to further improve it. It also shows the keywords found on your homepage.
Below that, you see passed tests, critical issues, and recommended improvements in the areas of basic and advanced SEO, performance, as well as security. This can be anything from a missing meta description on the homepage to lack of code minification or SSL encryption. You can also use the tabs on top to only show one category of messages, like critical issues.
What's more, when you click the arrow icon on the right for any issue, it explains to you how to fix it and also gives you a button that takes you to the place where you can do so. I really like this functionality, especially as a help for beginners.
The only thing that bothered me was that the analysis refers to the homepage just as "your page". So, when it says "no meta description was found on your page" I was confused as to which page was the problem. This only cleared up when I clicked the button to take me to where to rectify the issue.
Don't Forget the Competitor Analysis
However, it doesn't stop there. Under Analyze Competitor Site at the top, you can enter the URL of a competitor page (preferably targeting the same keyword as your homepage) to see how well optimized it is.
It gives you similar information as for your own page: an overall score, mobile snapshot, search snippet preview, keywords, and a rundown of the same issues it shows for your site. This is super helpful information in order to figure out how to beat the competition in the search results.
Plus, All in One SEO saves searches you have done in the past. That way, you can refresh the information without having to enter the URL again. Color me impressed, I really dig this feature.
Other Features of All in One SEO
Aside from that, let's review what other main features All in One SEO has to offer.
Set Custom SEO Titles and Meta Descriptions
Like other SEO plugins, All in One SEO adds an extra panel to the WordPress editor. You can find it both at the bottom and in the sidebar.
Here, one thing you can do is control the SEO settings on a per-page basis. Set an SEO title and meta description either manually of via quick tags that automatically insert things like separators or site title.
In addition, you are able to preview what it will look like in search results both on desktop and mobile.
Under Advanced, you are also able to set up a canonical URL, set your page to noindex, nofollow, or include other metatags, and configure additional advanced settings. Just be sure to switch off Use Default Settings to access these options.
If you have it enabled, the metabox also gives you the ability to control similar options for social networks in a separate tab.
Again, customize the title and description but you can also add a custom image, include video, set a Facebook object type and article section and tags. The plugin even gives you a preview (desktop and mobile) for social sharing options. That's something that's hidden behind a paywall in other SEO plugins.
Plus, you can do the same for Twitter including title, description, image source, and card type settings.
These features are available for posts and pages by default. If you want to use them for archives like categories or tags, you need to purchase the premium version of the plugin. More info on that below.
Use the On-Page SEO and Readability Analysis
Two things that are completely new in the updated version of All in One SEO are the analysis modules for on-page SEO and readability.
On-Page Optimization
The first is as easy to use as in other plugins. Simply enter a focus keyphrase and the plugin will check if the article is properly optimized for it.
It will look for the keyword in the title, meta description, URL, introduction, subheadings, etc. In addition, it will check the content length, internal and external links, title length, and other SEO factors. All in One SEO doesn't say anything about keyphrase density as far as I can see but checks whether the keyword is present in your content.
Next to the focus keyphrase you also get an optimization score. In addition, you get an overall indicator in the upper right corner of the editor. I assume that the numbers are different because the latter also takes into account readability and potentially other factors.
Just like in Yoast SEO, you can connect the plugin to SEMrush and get additional keyphrases. Just click the respective button and log in — it's free! However, it will only show you related keyphrases and their search volume. In the free version of All in One SEO, you can't actually optimize your content for more than one focus keyword.
Readability Analysis
What's also new is that the plugin checks readability indicators for your content.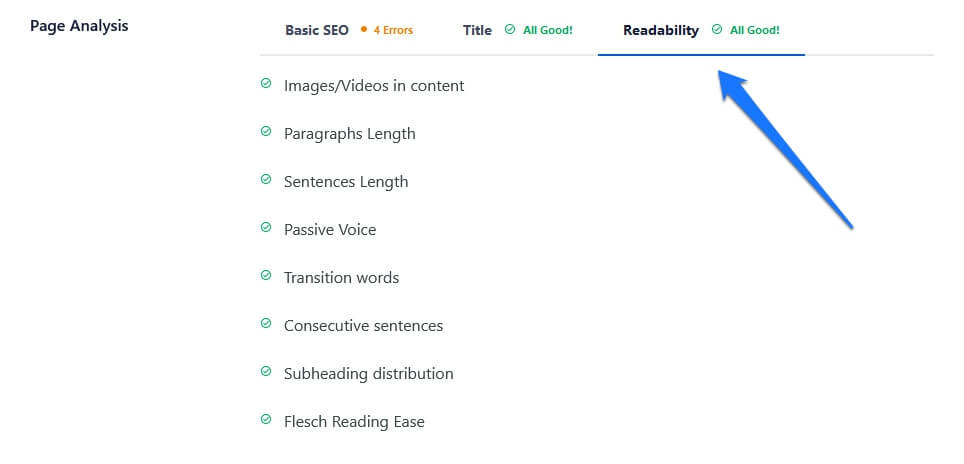 This includes your use of images and visuals, the length of paragraphs and sentences, amount of passive voice, transition words, and repetition as well as Flesch reading ease. Basically, if you have used this feature in Yoast SEO, you will feel right at home here. The only difference is that there is no way to highlight issues inside the text. Like the options to set a custom title and description, you also find these options in the sidebar.
By the way, information about your overall optimization level as well as SEO titles and description is also available in the post and pages list.
Customize Your Appearance in Search Results
Under Search Appearance you can take full control of what your posts and pages will look like in search engines. Let's go over all the functionality here step by step.
At the top, you have the possibility to choose the separator that will show up in your titles. Below that, you can set the SEO title and meta description for your homepage.
This works the same as for all other pages. Use tags if you want and preview what it will look like (no mobile preview here).
Further down, you can enter the Knowledge Graph information for your site. That's the stuff that will sometimes show up in Google search on the right side.
If you define your site as an organization, it asks for the name, contact information, as well as a logo file. When picking Person, you can either choose a user on your site from the drop-down menu or pick Manually Enter Person. In the latter case, be sure to provide a name and logo as well.
Content Types, Taxonomies, and Archives at the top all lead to similar menus.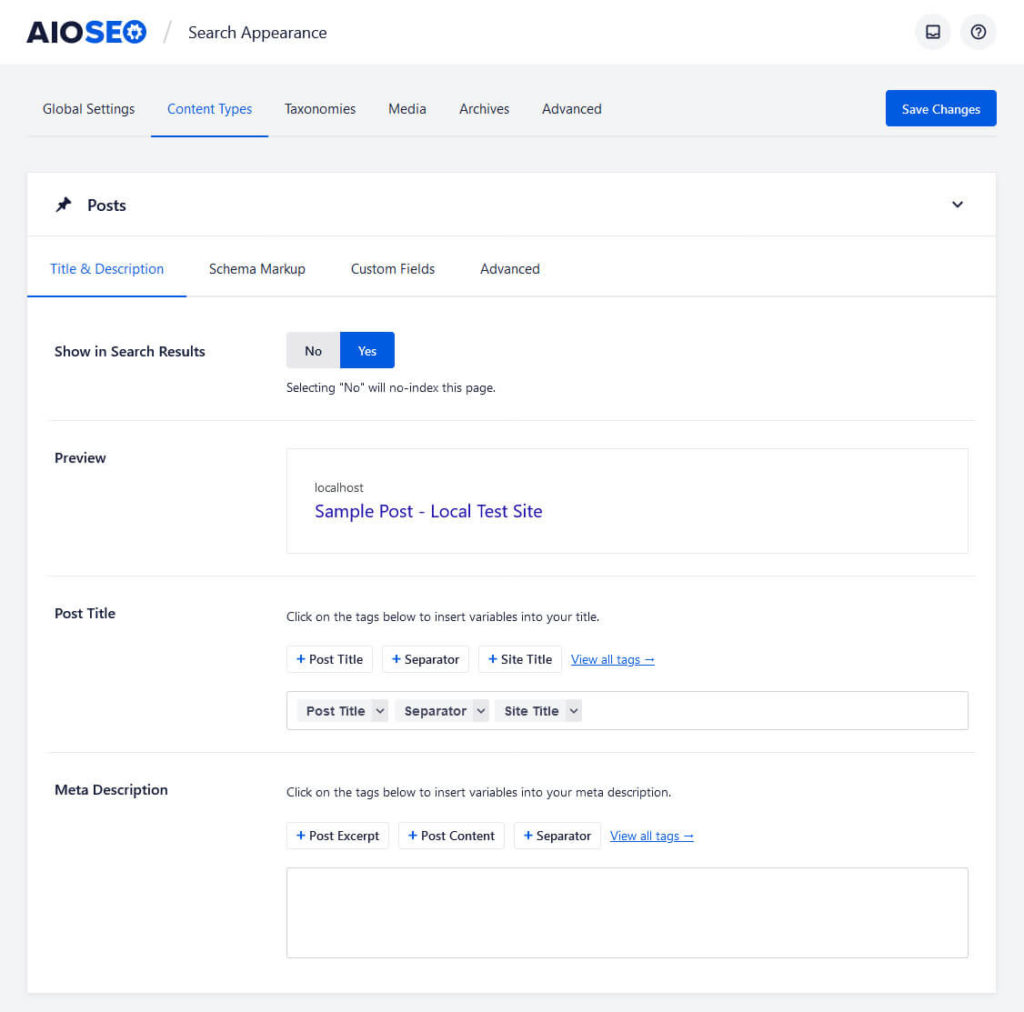 Here, you may determine which types of content you want to keep in or out of the search index, set default titles and meta descriptions, control robots meta settings (noindex, etc.), and whether to enable the All in One SEO meta box for them. Settings for Schema markup and custom fields are reserved for premium users.
In the free version, Media only has the option to determine where to redirect media links.
Finally, under Advanced, you can configure global robots meta settings, whether to offer a search box in the search results, and settings for content pagination and meta keywords.
Don't Forget About Social Media!
In addition to the above, you have similar settings for social networks. You can review the options All in One SEO offers here under a menu item of the same name.
In essence, this menu allows you to do the same thing we have already covered above: determine information that will display in social networks and in which way. What's noteworthy is that it contains both global settings and options for the homepage.
Under the Facebook and Twitter tabs, you are able to determine things like a default image source and default image to use in case there is none. Pick as what post types your content should appear, whether to show author, site title, etc. Below that, you can preview and make settings for the homepage.
Facebook settings also have advanced options to input such as Facebook ID, App ID, and author URL.
In addition, in the first tab of the menu you have the ability to define social profiles that belong to your site. That way, they can show up in search results. A cool detail: if you are using the same handle for several networks, All in One SEO gives you the option to only enter it once and then simply check the networks to which it applies.
Finally, under Pinterest, you are able to input the verification code that tells the network that this site really belongs to your profile.
Configure Sitemap Settings
Like other SEO plugins, All in One SEO creates a sitemap for your website that you can find under yourdomain.com/sitemap.xml.
Under the Sitemaps menu, you can control its content.
You have the ability to completely disable it, determine how many links it should contain and the types of content, taxonomies, and archives to include. You are also able to include pages that are not part of your WordPress installation, e.g. a landing page.
Under Advanced Settings you may further fine-tune the content in your sitemap.
Exclude posts, pages, or terms, and set Priority and Frequency for different content types. The latter mean the relative importance of content on your site and how often it likely gets updated. These tell search engines how often they should re-spider the content. The last option is whether include images in your sitemap.
Finally, you also have similar but simplified settings for an RSS sitemap that only contains the latest site content.
With the premium version you are also able to change settings for video and news sitemaps.
Connect Your Site to Webmaster Tools
Under General Settings > Webmaster Tools you find fields to connect your site to different webmaster tools. Your options are Google, Bing, Yandex, Baidu, and Pinterest.
Doing so is extremely easy. Simply click on any of the fields, enter your verification code or tracking ID, and save the updated settings. All in One SEO Pack then takes care of the rest.
There's also an option for connecting your site to Google Analytics, but for that it asks you to install the MonsterInsights plugin, which belongs to the same company. Just like in the installation wizard.
Take Advantage of the SEO Tools
As a final step in this All in One SEO review, let's have a look at the Tools menu.
Here, you find the following options:
robots.txt Editor — A very practical editor to create a custom robots.txt (an important server file) and add rules to it. You can enter all necessary information into a form, click Add Rule and All in One SEO will do the rest.
.htaccess Editor — Allows you to edit another important file called .htaccess from the WordPress back end.
Import/Export — Import settings from another setup of All in One SEO or from other SEO plugins. Alternatively, export your current settings, and/or create backups to go back to them later.
Database Tools — Reset All in One SEO settings in your database in part or completely.
System Status — Information about your site setup and server for debugging purposes.
Review of All in One SEO Premium
As already mentioned, All in One SEO also comes with a premium version. It is available in four tiers: Basic, Plus, Pro, and Elite. Each allows you to use the plugin on different numbers of websites (one, three, ten, a hundred) and they cost $49.50, $99.50, $199.50, and $299.50/year respectively.
However, it is important to note that this is the 50%-off price for when you first sign up. At renewal, it doubles.
However, you get a 100% money back guarantee for the first 14 days.
Features and Benefits
So, what do you get for this? In contrast to the free edition, users can take advantage of the following features with the premium version:
Unlimited keywords
Advanced SEO modules
E-commerce SEO settings for online shops built with WooCommerce
Google AMP SEO for Google's rapid-loading markup
Social media integration
TruSEO page analysis tool
Smart Schema markup
User access control to determine what type of user roles have access to which parts of your site's SEO settings
From the Plus tier onward you also get access to modules for local and image SEO. In addition, Pro and Elite plan users benefit from special sitemaps for Google News and videos. They also get priority support vs standard support for the lower plans.
It's important to note, however, that it's not always clear what some of the premium features contain. The All in One SEO website is not always doing a good job at explaining this. Plus, I'm not sure if it is up to date. Some of the features, like sitemaps, social media integration, and TruSEO Analysis, seem to be already available in the free version.
All in One SEO – Pros and Cons
Alright, after looking at the plugin in detail, let's determine its benefits and shortcomings.
Plugin Perks
Starting with the pros, I really like the new design. I think it's even better than Yoast and very bright, open, and modern. Only some button colors sometimes makes it unclear whether they are switched on or off until you use them.
I also think the SEO audit is great, especially with the possibility to compare yourself to competitors. In addition, the options for customizing titles and meta descriptions as well as check on-page SEO and readability are very solid. Especially the preview for how content will look like in social networks is super useful. The whole SEO panel inside the editor is a pleasure to work with, even if it could be a little more detailed in some places.
In addition, the sitemap functionality offers many more options than other competitors. All in One SEO also offers a great support structure with plenty of on-screen help and links to the documentation and other resources. I also like some of the very extras like the robots.txt editor with automatic rule creation.
Overall, you get a lot of value in a free plugin that allows you to fully take control of your site's SEO.
Areas for Improvement
At the same time, All in One SEO is not without its flaws. The first thing that really bothered me was the sneaky upsell in the installation wizard. I missed it the first time around and then had to deactivate and uninstall a plugin I didn't want in the first place.
Secondly, I am not a fan of having all the paid features present inside the UI but unusable.
I would prefer it if those only became visible when you activate a premium license, as it is in other plugins. Otherwise, they take up unnecessary space in the user interface. The same applies to the items in the WordPress menu. Some of them contain nothing usable in the free version and there are also, in my opinion, too many of them.
My biggest critique, however, is about the premium version of All in One SEO. It's not necessarily the amount of calls to action inside the plugin pushing you to upgrade. They are actually more subtle in this case than in other plugins.
However, I am honestly not convinced that the premium offerings are worth the asking price, at the very least not the full fee you have to pay at renewal. The functionality you get doesn't seem to justify the cost and I really think they should rethink this.
All in One SEO Review: Verdict
At first I want to say that All in One SEO were really lucky they released their new version when they did, even if it meant I had to start the review over from scratch. My impression of the old version was quite mediocre. It had only basic features and functionality that wouldn't hold the candle to other plugin options. However, after the reboot I now think All in One SEO definitely worked its way up to one of the top spots among the available WordPress SEO plugins.
It's definitely a solid option with all the important functionality to optimize the way your site appears in search and social networks. The makers did a great job overhauling it and have greatly improved it compared to before. While I think that their premium offer is a bit questionable, I can definitely see the free version perform well in the comparison later on.
Do you agree with my review of All in One SEO? Any objection to the points I raised? Let me know in the comments!