At this point, in the review series, we will turn to The SEO Framework. This is the first plugin that I have genuinely never used in my life. Consequently, it will be interesting to see my impression from a first-time user's point of view.
As usual, we will look into the plugin setup process and available options, go over all its features and see what makes it stand out. We will also check what it has to offer in terms of a premium edition. Finally, the post will list the pros and cons of the plugin so you can understand if it's right for you.
(By the way, if you want to read the other SEO plugin reviews, you can find them here: Yoast SEO, All in One SEO, Squirrly SEO, Rank Math, SEOPress.)
The SEO Framework – Setup and Overview
In the WordPress directory, The SEO Framework is not doing too shabby: 100,000+ installations and a 4.9/5 rating. Could definitely be worse.
You can install it the same way as any other plugin extension via Plugins > Add New.
The plugin does not come with a setup wizard. Instead, when you first activate it, you find a little nudge at the top of the screen to have a look at their 5-minute setup guide. The document tells you to check certain settings (homepage SEO title and description, social meta, etc.) and make sure they are configured correctly.
We will go over all of these settings below. However, the plugin makers claim that The SEO Framework also comes with a lot of sensible configurations out of the box. For example, it discourages search engines from showing low-quality content (404 pages, feeds, the sitemap, empty categories) in the search results. The plugin also directs search engines from comment pages to the posts containing the comments. So, you already improve your SEO just by activating it
Available Plugin Options
Unlike other WordPress SEO plugins we have looked at, you can review all settings The SEO Framework has to offer in a single menu called SEO.
Though broken down into different meta boxes and tabs, it is, frankly, quite long. However, the user interface contains plenty of hints explaining what everything means. Plus, you can use the little arrow symbols to order the menu however you want. That way, you can place the most important options near the top.
Here's what the different sections contain:
General Settings — Layout settings, performance tweaks, and general indexing options.
Title Settings — Lets you configure the structure and content of automatically generated page titles.
Description Meta Settings — Opt in or out of automated meta descriptions.
Homepage Settings — Here, you can control the appearance of your homepage in search and social networks.
Social Meta Settings — Appearance of your pages in social networks and which data to display.
Schema.org Settings — Whether to use Schema.org data and what it should contain.
Robots Meta Settings — Settings for the robots.txt file.
Webmaster Meta Settings — Connect your site to different webmaster tools.
Sitemap Settings — Configures the content and other settings of your sitemap.
Feed Settings — Anti-scraping options for your RSS feed.
Most of these are fairly standard and similar to what we have already seen.
For support, there's the documentation. However, it seems a bit thin in my opinion. I could often only find answers to my question using the search function and looking at release notes. However, The SEO Framework also prides itself in their active role in the WordPress support forum. So, feel free to swing by there if you have any technical issues.
Standout Feature: Automatic Meta Descriptions
When you look at the URL where The SEO Framework is hosted in the WordPress plugin directory, you can see that its original name was Autodescription.
That's because, in the beginning, the plugin only created automatic meta descriptions, which is still part of its functionality now. You can see this when you create a post and find a familiar-looking meta box at the bottom of the WordPress editor.
The difference: It already contains suggestions for both an SEO title and a meta description. Plus, when you look at the rendered page in your browser developer tools, you can see both of them right there, too.
The more impressive part here is the meta description. Basically, the way it works is the plugin takes the beginning of the post or page, strips away unnecessary data and formatting, makes it humanly readable, and cuts it down to the right length to display in the search results without being cut off.
From my tests, it seems to be doing a good job. While it's not the same as a hand-written custom meta description, the results are quite passable. I reckon this is a great option for when you have many pages lacking a description. Activating the plugin allows you to add them all at once.
At the same time, you can also overwrite them on an individual basis by simply filling in the field in the content editor, so you get the best of both worlds. Use the checkbox if you want to remove the site name from the page title.
What Other Features Are There?
Alright, let's review what else The SEO Framework has to offer its users.
Control Social Appearance and Visibility of Individual Post and Pages
In the WordPress editor, besides the tab for customizing the search title and meta description, you also get two more called Social and Visibility. Here, you can control the social appearance for individual pieces of content (we are getting to the global settings below) as well as define important robots and meta tags (there are global settings for that as well). Let's start with the social settings.
As you can see, these are pretty familiar for anyone who has worked with an SEO plugin before. Simply define an Open Graph title and description that will appear in Facebook and other social networks. You can do the same for Twitter and also input the URL of an image you want social networks to use when this page or post is shared. The SEO Framework also fills these in automatically (including the image) just like the SEO title and meta description.
Under Visibility, you find these options:
Here, you can set a canonical URL (meaning, in case this is duplicate content, like an existing article from another blog, you can tell search engines where the original is in order to avoid penalties). You are also able to set content to noindex, nofollow, or noarchive. These keep search engines from indexing the content, follow or place value on links found on the page, or caching it. If you don't set anything, the plugin will use the defaults defined in the settings.
Finally, you have possibility to exclude pages from search queries and archives on your site as well as set a redirection URL if it's no longer in use. Doing so will send visitors and search spiders to other relevant pages.
Use the SEO Indicators to Find Issues Quickly
With The SEO Framework active, when you go to the Posts or Pages menu in the WordPress back end, you will quickly notice an array of indicators in the new SEO column.
It is color coded to show how important each issue is to address. Hover over any field to see what the acronym means and the status The SEO Framework assigns to it.
T/TG — Stands for Title and Title, generated. It tells you when the title is too long or short, unbranded, not present, or any other issue.
D/DG — Description or Description, generated. Same as the title indicator but for the meta description.
I — Indexing status of your content, like if indexing is prohibited by robots.txt or WordPress settings.
F — Same as above for dofollow/nofollow.
A — Same as above but for archive/noarchive.
R — Whether or not the page in question redirects visitors elsewhere.
I like this feature. The SEO Framework helps you quickly review which pages need work and also what are the most pressing issues.
Configure Automated Titles and Descriptions
As we have seen above, The SEO Framework will automatically create SEO titles and meta descriptions for your content. However, that doesn't mean that you don't have any influence in how they will turn out (aside from setting them manually, of course). The plugin has a number of settings you can adjust to control the way they are created.
Here's what you can do in detail for the title tags:
Pick the separator that goes between different parts of the title (e.g. post title and site title)
Determine whether to strip HTML tags (like bold or italic) from the title (recommended)
Set whether the site title should appear in the front or back of your search titles or at all
Usage of prefixes such as Category: for archive titles
On the other hand, the only settings for the meta descriptions is whether or not you want The SEO Framework to create them automatically.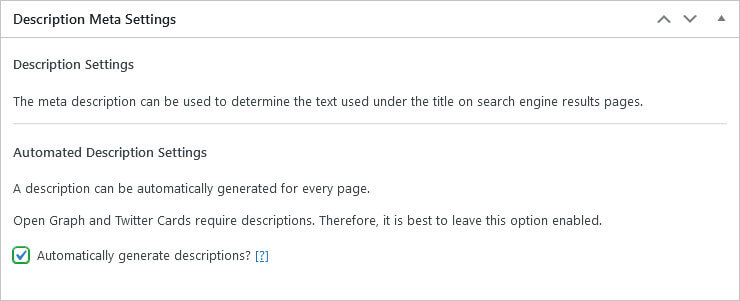 The settings here aren't as granular as in other SEO plugins. That's likely because The SEO Framework is based on the premise that it automatically implements SEO best practices. However, it's nice to see that you do have some aesthetic control over what happens to your page titles.
Use the Homepage Settings to Adjust Its Look, Too
Next up are options to configure the appearance of your homepage in both search and social.
Under Homepage Settings, you have the following control:
Review the title and description the plugin creates and, optionally, override them manually. Basically the same settings as in the post and page editor.
Whether to use the tagline (set it under Settings > General inside WordPress) in the title and its position.
Set Open Graph and Twitter titles and descriptions as well and define the URL of the image you want social networks to use when someone shares your homepage address.
robots.txt settings for the homepage, meaning whether to set it to noindex, nofollow, noarchive or do the latter for paginated pages.
Again, there aren't a lot of settings but what's there is sensible and essential.
Configure Global Social Meta Settings
Moving on, under Social Meta Settings you can, as expected, define important information about your site for its appearance in social networks.
The options are divided into several tabs. Under General you can:
Determine whether to output meta information for different social networks and services (Open Graph, Facebook, Twitter, oEmbed).
Include and exclude the site title in automatically generated social media titles.
Allow or disallow users to pick from several images when sharing pages on social.
Determine the URL of a fallback image when a shared post or page doesn't have its own.
Pick a theme color that will display in certain services and browser tabs.
Control whether or not to use the shortlink tag.
Under Facebook you can input your Facebook App ID, publisher page, and author fallback page. This is information Facebook might display for others to follow when someone shares your content on the platform.
The Twitter tab lets you pick your default Twitter card format (summary or summary with large image) and input your site and author Twitter profiles. The latter might display with shared site content so that people can directly follow you.
oEmbed has settings for services using this format. It's basically just whether they should use the Open Graph title, social image, and remove the author name on Discord. Finally, Post Dates is about whether you want to include dates for when posts were published and modified. This information displays on some social networks.
Again, not that many options and what is there is sometimes a bit technical for beginners in my opinion.
Fill in Important Schema.org Markup Data
In case you are not familiar with Schema markup or structured data, it's the thing that is responsible for you seeing additional information in search results like images and ratings, but also the Knowledge Graph information on the right.
Under Schema.org Settings, The SEO Framework offers pretty much five options for your site to use structured data:
Enable breadcrumbs — If possible, shows the page path inside search results instead of the usual URL.
Enable sitelinks searchbox — Shows a search box in the SERPs that allows users to query your site content directly from there.
Output authorized presence — Determines whether or not to output the data that can appear on the right of Google results when someone searches for you.
Organization or person — Pick whether your site represents something like a company or an individual and enter the site owner's name.
Logo — Enable/disable the logo and define a logo file. This might show up in search together with your name, social profiles, and other information.
Set Global Robots Meta Settings
Robots Meta Settings is where you can control options concerning the crawling and indexing of your site.
As we have settled in other reviews, you can control a lot of this via a file named robots.txt, hence the name. Here are the settings that The SEO Framework has in store under General:
Advanced query protection — Keeps fake archives out of the index if enabled.
Paginated archive settings — Prevents anything other than the first page of paginated archives from being indexed. This is to cut down on potential duplicate content issues.
Copyright directive settings — Enable or disable copyright directives to be added to your content. This is mostly to accommodate local copyright laws.
Maximum test snippet length — Define the maximum character length of your meta descriptions.
Maximum image/video preview size/length — Limit the size and length of images and videos from your site when they appear in search engines.
Under Indexing, Following, and Archiving you can choose which types of content you want to apply the noindex, nofollow, and noarchive tags to. The SEO Framework has sensible default options that should be suitable for most users.
Take Control of Your Sitemap
Like we have seen in the review of other SEO plugins, The SEO Framework automatically creates a sitemap that contains all content on your site.
This helps search engines find and index your posts and pages. Here are the options the plugin lets you configure for this functionality:
Enable and disable the sitemap.
Limit sitemap queries from the database in case there are performance problems.
Add the sitemap location to robots.txt (to inform search engines where it is).
Include the <lastmod> tag in the sitemap. It which tells search engines which pages to check for changes first.
Notify search engines when the sitemap is updated yes or no?
Ability to style sitemap colors and add a logo for more pleasant design.
Connect to Webmaster Tools and Protect Your RSS Feed
The final settings in The SEO Framework options concerning webmaster tools and your site's RSS feed. The first is dead simple and something we have seen before. It gives you the option to enter verification codes for the webmaster tools of Google, Bing, Yandex, Baidu, and Pinterest to connect your site to their services.
Feed Settings lets you limit the length of RSS feed entries and automatically add a link back to the original article. Both of this aims at making the life of automatic scrapers who steal your content harder. You can also allow search engines to index your RSS feed and display it in search results. However, this is only recommended for websites that publish podcasts.
Built-in Accessibility and Privacy
A very cool thing about The SEO Framework (and a first in this review series) is their emphasis on accessibility. They make a great effort to allow users of different abilities to benefit from their plugin.
For example, the color scheme is suitable for people with color-vision impairments. In addition, the user interface supports keyboard navigation and screen readers.
The plugin also does not collect any information to send back to the developers and does not create cookies. Plus, the user interface is free of the kind of branding and advertising you see in a lot of other plugins.
Finally, the developers take great pains in making the plugins as secure as possible. All of these are things all SEO plugins or all WordPress plugins for that matter should aspire to.
The SEO Framework: Review of Their Premium Offers
While The SEO Framework does not have a premium version, it does come with a number of optional addons. Some of them are free and some only available with a premium subscription.
To use any of these you need the extension manager. If you want to use any of the premium extensions, premium plans are available for $7, $17, and $27/month. Higher plans let you use the extensions on more sites and allow more API requests (for synonym and inflection lookup). They also include better support. There is a 30-day refund policy.
The SEO Framework – Pros and Cons
Alright, now we have a bird's eye view of what the plugin is capable of. Time to review where The SEO Framework shines and where it doesn't.
What's Great
Overall, The SEO Framework seems like a solid plugin. It gives you all the functionality to optimize your site appearance in search and social media. It also has great out-of-the-box settings and even automates the creation of titles and meta descriptions with very decent results. The latter will be an immense help especially for people who know very little about SEO themselves.
I also think the SEO indicators are a nice touch even if other SEO plugins have similar features. The SEO Framework manages to pack a lot of information into very little space.
What I also find really refreshing is their no-advertisement-ever stance. As we have already seen, other SEO plugins often function as billboards for their premium offers. The SEO Framework's categorically refrains from this practice, a first in a plugin review.
It also means that it integrates well with the default WordPress dashboard. However, even WordPress is moving away from this kind of barebones design (see the Gutenberg editor and Customizer). So, a little more flair would be ok as well. Yet, their focus on accessibility is top notch!
What Could Be Better
As for the cons, I found the options a little overwhelming, with so many of them crammed into the same space. Some of them are also very technical and a few of the descriptions are not the easiest to understand. I wasn't always sure about what each option does or doesn't do without doing further research. I can't imagine what it will be like for people who have never dealt with SEO before. Especially since the documentation could also use some work.
Yet, the biggest issue I encountered in my review of The SEO Framework is actually their premium offers and addons. The way they are presented is downright confusing. It's very hard to figure out what you do and don't get with and without a subscription. Frankly, I only understood it after I downloaded and installed the extension manager and saw in the interface what I can and can not activate without a license key.
In addition, some extensions that I expected to be free from the description turned out not to be. They should really find a way to make this clearer, at the moment it's a bit of a deterrent.
Plus, not all extensions make sense. Some functionality, like sending visitors from attachment pages to real pages, are baked into other SEO plugins by default. I am also not sure why I should pay for a content analysis module that I can get for free in other plugins. Maybe it would be a good idea to make that a default feature but only enable API access with a subscription. At least for me, that would make The SEO Framework a more attractive option.
So, while I like the lean core product and what it does, I'm not entirely convinced by the environment attached to it.
The SEO Framework Review: Final Thoughts
This was the first plugin in this series for which I had no idea what to expect. I do like that it deviates from many of the established industry practices. It's pretty straightforward in what it does, ad free, has sensible default options, and exciting automated features.
At the same time, The SEO Framework comes off as a bit technical and clunky at times. Search engine optimization has become a lot more than a checklist of technical requirements. Yet, that's the overall impression that The SEO Framework leaves me with. It could also use a bit more pizzazz as well as a rethinking of their premium offers.
In short, I think they have a great core product but I personally would need a few more bells and whistles to seriously consider changing to it.
Do you agree or disagree with my review of The SEO Framework? Share your thoughts in the comments below!