Regular readers of this blog will be aware that, over the past months, I have published a series of in-depth reviews of WordPress SEO plugins. It started out with the question in mind "what is the best WordPress SEO plugin?".
For years, my answer would have reflexively been Yoast SEO. It's basically all I used at that point. However, after going through what else the WordPress sphere has to offer, that's not necessarily the case anymore.
To find out which WordPress SEO plugin really deserves the title "of best", in this post, I will pit Yoast SEO vs Rank Math, All-in-One SEO, SEOPress, Squirrly, and The SEO Framework. I will compare them on the grounds of setup, features, usability, and premium offers. You can also find links to the standalone review of each in case you want to learn even more.
Use the table of contents below to jump to whichever plugin interests you the most or if you want to get right to my recommendations.
All good? Then, without further ado, let's look into the best SEO plugins WordPress has to offer.
Quick disclaimer: Note that this post will be about the best one-stop-shop SEO plugins for WordPress. I know that there are other plugins that help SEO, such as for Schema markup or XML sitemaps, however, that's not the focus here.
Let's start off with my go-to plugin for many years and the one that started it all with the first review. It's considered by many the best WordPress SEO plugin because it is also the most successful. Yoast SEO has more than five million installs (at which point the WordPress directory stops counting) and a 4.8/5.0 rating. Here's what it has to offer to its users.
Yoast SEO: Setup and Options
Like many of the best WordPress SEO plugins you will find on this list, Yoast SEO offers an on-boarding wizard to help you get set up.
There are calls to action to access it both on the main dashboard and in the WordPress admin bar menu.
By going through the wizard and answering its questions, you will automatically configure some of the most important SEO settings on your site, including:
Indexing status (so you don't accidentally block search spiders)
Open Graph information like type of site, your logo, and social profile links
Indexing options for different content types
Website name and title
Aside from that, Yoast SEO divides its options into several topical menu items:
We will go over everything here below, so there is no need to go into detail yet.
One thing that is worth mentioning, however, is that Yoast SEO includes a lot of support options. Basically everywhere you can find tooltips (click on the small question mark icons) with links to articles or the knowledge base, instant answers, and even tips in the WordPress help menu.
So, if you ever feel lost, you can always find help.
Standout Feature: On-Page SEO Analysis
The standout feature and one of the main reasons it's counted among the best SEO plugins WordPress has to offer is Yoast's content analysis tool for on-page SEO. Enter the focus keyword that you want to optimize your post or page for and the plugin gives you a detailed analysis of how well you are doing.
Not only that, it also provides you with a checklist how to further improve your SEO. The plugin checks all common on-page SEO markers like having the focus keyword in the title, URL, meta description, and image ALT tags. It also looks at keyword density, the number of external and internal links, and more.
In addition, Yoast SEO has a readability analysis (under Readability) that examines how pleasant your content is for readers to consume, not just how technically well optimized it is.
Here, it looks at things like the length of your sentences, paragraphs, and sections. It also checks your use of passive voice, repetition, and the overall ease of your text. Click on the eye icons to have the plugin mark problematic parts so you can correct them. This is also super helpful in getting better at content formatting, which is a fundamental WordPress skill.
Overall, the analysis offers invaluable advice for how to make your content better. Try to get as many markers green as possible and you set yourself up for content that performs great in search engines.
Additional Features of Yoast SEO
Aside from the standout feature above, what else does Yoast SEO have to offer?
Control Search Appearance – Globally and Individually
One of the things that Yoast SEO enables you to do is to take control of what your content will look like in search engines. You can make a lot of global adjustments to that under the Search Appearance menu.
Here's what this menu allows you to do:
Choose a separator symbol for your titles (it will show up between different parts like the post title and site title)
Define the SEO title, meta description, Knowledge Graph, and Schema information for your homepage
Set up title formats from variables for your homepage, posts, pages, archives, and other content types
Control indexing of all content types on your website
Enable breadcrumbs and configure their appearance on your site
In addition, you can also control this for individual content pieces. In the same metabox where you find the content analysis, you also have the option to define custom titles and meta descriptions. This helps make your content more appealing and clickworthy.
Yoast SEO also gives you a preview of what your search snippet will look like that you can switch between desktop and mobile view. In addition, you have the ability to control the Schema.org information and define important meta tags like noindex, nofollow, and include a canonical URL.
You also find these options in other places, for example, your tag and category archives.
Under Tools > Bulk Editor, the plugin additionally gives you the option to change post titles and descriptions in bulk.
Finally, it will also display SEO indicators and information in the list of your posts and pages.
Configure Your Appearance in Social Media
Similar options as for search appearance also exist for social media platforms. Under the Social menu, Yoast SEO allows you to set a custom Facebook image, title, and description for your homepage as well as a default image for content shared on the network that doesn't have one attached.
The menu also has options to pick a Twitter card, verify your site with Pinterest, and include social profiles so that they may show up in search engines.
In addition, you can also overwrite the global settings for individual content pieces just like you can for search appearance. You find the options to control post and page titles, descriptions, and images for Facebook and Twitter as part of the editor options.
The only downside here: there is no preview of what it will look like. This is a paid feature in Yoast SEO.
XML Sitemap and Webmaster Verification
The last two options I want to talk about in detail are XML sitemaps and the possibility to verify your site with different webmaster suites. With Yoast SEO installed, the plugin will automatically a create sitemap for your site. It looks like this:
It contains all the content present on your site. You can submit it to search engines (via their webmaster tools) for easier indexing. However, there are no further options to customize it in Yoast SEO. Find code snippets for that here.
To submit the sitemap, you first need to verify your site with the webmaster tools in question. You can do that in Yoast SEO as well under General > Webmaster Tools.
Just enter your code in the respective fields, save, and you are good.
Yoast SEO Admin Bar Options
In addition to what you find in the WordPress back end, Yoast SEO also adds a bunch of options to the WordPress admin bar. If you hover over its menu there when in the dashboard, you find access to the configuration wizard, shortcuts to Yoast Academy, Google Keyword Planner, and Google Trends for keyword research, and the plugin settings.
It gets more interesting, however, if you look at the menu on the front end of your site, specifically when viewing one of your content pieces.
As you can see above, in this case it not only shows the content's SEO status with an indicator, it also gives you a whole range of options to send the page to third-party tools for further analysis. More specifically, here's what you can run it through:
Check links to the page via Google Search Console
Analyze the keyword density via zippy.co.uk
Check the version that Google has cached of the page
Validate whether the page allows rich results via Google's Rich Results Test
Facebook Debugger to see how it will look like when shared
Pinterest's Rich Pins Validator tool
W3 HTML and CSS validators
Google's Pagespeed Insights
Google's Mobile-Friendly test
This lets you easily test the page in question for other properties that are relevant for search engine optimization and overall page quality.
Miscellaneous Features
Aside from the above, Yoast SEO also has a few smaller features worth mentioning:
Cornerstone content — You can define some of your content as cornerstone. Doing so will move it to a separate list for easier updating and prioritize it in the linking tool (premium feature).
Integrations — Yoast SEO has the ability to integrate with other programs. In the free version that's SEMrush and Ryte. In the premium version, you can also connect it to Zypier and Algolia. Enable and disable this under General > Integrations.
Import and export — Import data from other SEO plugins and export Yoast SEO settings for reuse.
File editor — This allows you to edit the important robots.txt and .htaccess files from the WordPress back end.
RSS feed protection — Define content that will appear in front of or after content in your RSS feed under Search Appearance > RSS to prevent scraping.
SEO Workouts — This is mainly a premium feature but you can still find an example of it in the free version. Under Workouts, Yoast SEO gives you SEO goals to achieve and also tells you how to do so. The free version only advises you to set your most important pages as cornerstone content. In the paid edition, you get more tasks to perform.
Yoast SEO Premium: Features and Pricing
As will be common in this comparison of the best WordPress SEO plugins, Yoast SEO also offers a premium version of their plugin, in fact several. You can find them on their website or in a dedicated plugin menu in the WordPress back end.
In concrete terms, there is Yoast SEO Premium and several thematic extensions to improve local, video, news, and WooCommerce SEO respectively. The premium plugin license costs 89€/year (plus VAT if applicable), all extensions are 69€ on their own. In all cases, the price per license gets cheaper if you purchase several at once and there are some bundle options (see below).
Here are the main improvements you get with each:
Each of the specialized extensions are also available as bundles with Yoast SEO Premium and access to all online courses for 129€ each. Plus, there is a subscription that contains everything above plus the training courses for 199€/year or 19€/month (plus VAT).
Pros and Cons, Final Verdict
Alright, now that we know everything that Yoast SEO has to offer, let's go over the plugin's advantages and disadvantages, starting with the pros:
Top-notch content analysis tool for both on-page SEO and readability
Full control over all important aspects of your website's SEO
Great out-of-the-box settings, just activating the plugin automatically improves your site optimization
Beginner friendly, lots of help through tooltips, etc.
Great value, especially for a free plugin
On the other hand, here's what's not so great:
The amount of advertisement and branding can get annoying
Using Yoast can lead to chasing "green lights" over concentrating on content quality
There are some small UI problems but nothing major
Not all premium offers seem worth their price, e.g. the Local SEO plugin functionality is relatively easy to implement on your own and for free
So, do I recommend using Yoast SEO? Yes, absolutely. The plugin is very powerful, has great options to customize the appearance of your content in search and social, and offers awesome value for free. There is clearly a reason for the plugin's popularity. However, is it the best WordPress SEO plugin out there? We will see that at the end of this comparison.
Rank Math is the plugin I was most positively surprised by while reviewing it. It has a whole bunch of features and is a community favorite with currently more than 900,000 installs and a rating of 4.9 out of the maximum of 5 stars. Only two other plugins on this list have managed this. Let's see what makes it so special.
Rank Math SEO: Setup and Options
Like other entries on this list, after installation, Rank Math SEO automatically starts a setup wizard.
In it, it asks you to create an account, which is optional but necessary in order to use some of the features. You can use your email address or Facebook, Google, or WordPress.com account for that.
As the first step in the wizard, you can set the plugin to easy or advanced mode, which will influence some of the options available. After that, the steps it runs through are relatively standard:
Import settings from other SEO plugins
Define the type of site, set a logo for Knowledge Graph and a default social media image
Optionally connect to Search Console and Google Analytics
Configure the sitemap
Control some global noindex and nofollow settings and whether to automatically open external links in a new tab or window
If you have chosen the advanced settings, you also have these options:
Change SEO capabilities of different user roles
Switch on and off Rank Math's 404 Monitor and Redirection module
Basic Schema markup settings
After the wizard is done, you land on the main plugin dashboard.
Here, you can comfortably enable and disable plugin features in a modular fashion. You also find the option to revert the plugin to Easy mode and a link to the plugin documentation. Rank Math also places some options in the WordPress admin bar, so be sure to check that out as well.
Standout Feature: Content Analysis and Content AI (+Link Suggestions)
Similar to Yoast SEO above, the best feature of Rank Math is its on-page analysis tool. It will look quite familiar but also comes with some useful extras. As usual, you find it in its own menu in the sidebar of the WordPress editor.
The first step is to input a focus keyword. What's cool is that, if you have created a Rank Math account, the plugin will show autosuggestions from Google as you type.
This lets you pick one or more keywords more easily and also gives you some inspiration what to optimize for.
Once you have added the focus keyword, the plugin analyzes the level of optimization for it. It does that both in form of an overall score at the top right and several checklists below.
The Basic SEO and Additional sections are pretty standard. Here, Rank Math looks for the keyword's presence in the title, meta description, URL, subheadings, ALT text, etc. It also checks for internal and external links and more.
There is also Content Readability that examines paragraph length and your use of images. A new tip here is use a table of contents. What also stands out is Title Readability where it looks at sentiment, power word usage, and if you have a number in your title. In short, it's not just about technical optimization, but also readability and user friendliness. Click the question mark icons in case you don't understand something to see the tooltips.
You can also set more than one keyword and the plugin will show the level of optimization for each in colors from red to green.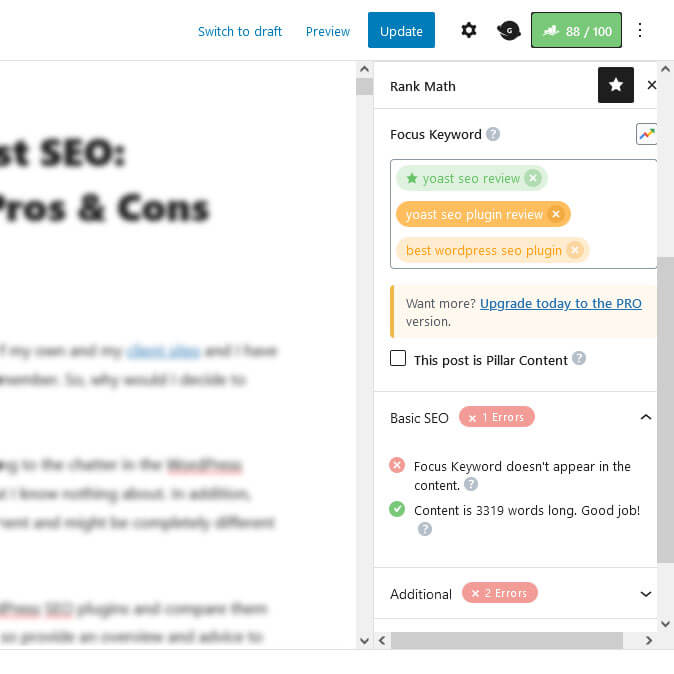 Click on any of them to see individual on-page SEO advice for it.
Finally, you have the ability to define content as pillar content via a simple checkbox.
This tells the plugin that it's one of the most important posts and pages on your site. It also makes it show up in the Link Suggestions section that the plugin adds to the normal editor sidebar (not the plugin menu) as a reminder to point enough links to your central content pages.
There are also some icons to automatically add links to the content and copy their URLs, however, only the latter worked properly for me in my tests.
Content AI: AI-Supported On-Page Optimization
In addition to the usual content analysis, there is also a new feature only introduced recently, called Content AI. It is an SEO assistant supported by artificial intelligence. To use it, you first need to activate its module on the plugin dashboard.

After that, it appears as part of Rank Math's content optimization options next to the focus keyword. Simply click on the little Content AI button to get started.
When you do, you still have to pick the country and focus keyword that you want to optimize for. Rank Math will automatically use the default country from its settings and add the keyword that might already be present.
Be aware, however, that you need credits to use this feature. In the free version, you get five of them per year. For additional ones you need to buy the paid plugin version. There is currently no option to simply buy credits.
Hit Research and the assistant goes to work. It will check your keyword against content that is already ranking for it to make suggestions for how to improve your own post or page. For that, it examines a bunch of factors, like word ad link count, ad competition, and search volume. You will see most of it below. The makers also promise that the AI gets better over time and so will its advice.
Using the Content AI Results
When done, Rank Math Content AI gives you a detailed breakdown with loads of information.
Here's what you can find:
Besides an overall score, it will display your content's word, link, heading, and media count plus recommended numbers for each. Click to get a more detailed breakdown, for example, how many h3 headings you should have, the number of external vs internal links, or how many images vs videos. Each is also color coded for whether your content passes a test or not.
Below that, you find several tabs. In the Keywords section Content AI gives you recommendations for keywords to include in your normal text, headings, title, and meta description. You also find related keywords for the main keyword at the bottom.
The cool thing: you can click on any keyword to copy it to the clipboard in order to add it to your post more easily. In addition, if you hover over a keyword, the plugin shows its ad competition, cost per click, and search volume.
Questions contains questions related to your keyword that will appear in Google. Here, too, a click will copy them. Alternatively, use the button in the upper right to copy all of them and paste them as a Rank Math FAQ block.
Finally, Links contains URLs of authority content relevant to your topic that you can link to.
By the way, all the information here gets saved on your site for later review. However, if you want to update it, it will cost you another credit.
Is Content AI Any Good?
The whole concept of the AI assistant reminds me of Clearscope, which is a similar tool I have used before, though Rank Math's assistant is less powerful.
Overall, it looks very practical to have all of this information in one place. Much of it is data that I would usually put together by hand, so it saves a lot of time.
At the same time, it didn't feel groundbreaking at this point. Some of the keyword suggestions were a bit non-sensical or even branded (for another brand than my website). So, that's definitely not stuff that I would want to add to my content.
Of course, I haven't used it in the real world, so I can't say anything about the results you can achieve when you follow its advice. At the very least, it's a great orientation for beginners who might feel lost about how to create content that can compete with what is already out there.
Additional Features That Rank Math SEO Offers
Here's what else Rank Math SEO can help you with.
Complete Control Over Content Search Appearance
In the same place where you can do the on-page optimization analysis, you also find a number of tools to make changes to the appearance of your content in both search engines and social media networks. Click the Edit Snippet button to preview the search snippet (both desktop and mobile) and make changes to your SEO title, meta description, and permalink.
You can either include a custom title or put it together from variables from the drop-down menu.
Similar options exist for social networks under the Social tab.
You can control things like the page's image, title, description, and Twitter card. This includes a preview as well, which is reserved for paid users in other plugins on this list.
Rank Math also has a special option: you can add an icon overlay to make your content look like a playable GIF or video on Facebook to increase click rates. However, this is a bit misleading in my opinion so I'm not sure if this really is a good idea to use.
Then, you have the Advanced and Schema settings. In the first one, you can control robots meta settings like noindex and nofollow, set a canonical URL, and redirect your content (note: this section only shows up when you have set the plugin to Advanced mode).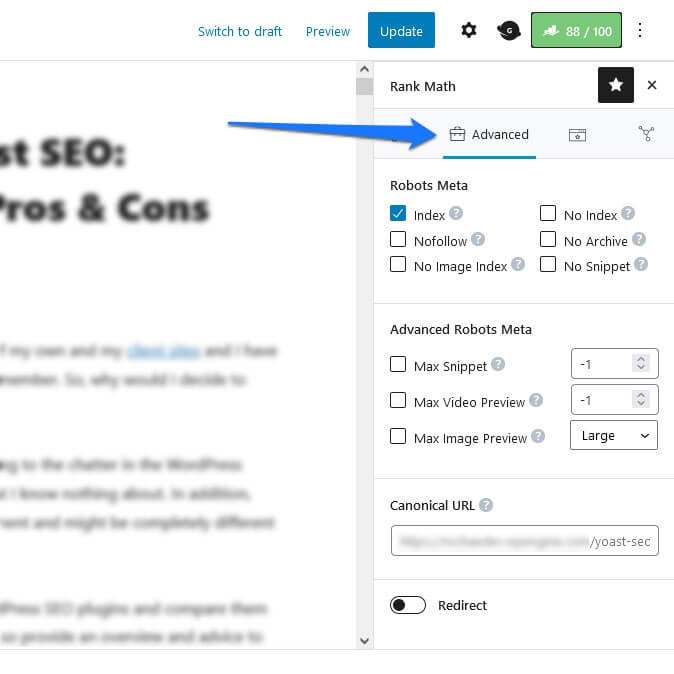 Under Schema, Rank Math offers a generator for fully customizable Schema.org data.
Pick the most appropriate type, then fill it with the required information in order to stand out in Google results for certain content types.
Finally, a lot of this information also shows up under Posts and Pages.
With the plugin active, you can see the score, focus keyword, Schema, whether something is pillar content, the number of links (internal, external, incoming), the SEO title, and meta description. What's even better, click the pen icons at the top to make changes to the keyword, title, and description in bulk right then and there and save all changes at once at the click of a button.
Detailed SEO Analysis for Sitewide Optimization
Something that we will see in more and more WordPress SEO plugins is the capability to run a site audit. Rank Math is one of those cases and you can find it in the Site Analysis menu.
Hit the big blue button to start and it will deliver results like this:
As you can see, they are broken down into several categories. Here's the kind of information that you will learn:
Summary — An overall score and the number of passed tests, warnings, and failed tests.
Basic SEO — On-page SEO markers for the homepage (e.g. length of meta description, presence of ALT tags, ratio of internal to external links) and SEO settings of the site as a whole (permalink settings, indexability, number of pages without focus keyword, and more).
Advanced SEO — Search snippet preview and mobile snapshot of the homepage, Open Graph information, connection to Google Search Console, existence of a sitemap, and other advanced settings.
Performance and security — Things like expires headers, CSS and JavaScript minification, server response time, if HTTPS is enabled, and more.
The goal is to help you review the crucial SEO markers of your website. Get everyhing here to green and you are putting your site into a good position to fare well in the search results.
Back End Analytics for a Quick Overview
Another thing that Rank Math offers is to display search analytics data in the WordPress back end. In order to do that, it also makes connecting your website to Google properties extremely easy. If you haven't already done it during onboarding, you find options to do so under General Settings > Analytics.
Click the prominent button and follow the on-screen instructions. Once the connection has been established, pick the correct site, account, property, and view via drop down and decide how long Rank Math should keep your Analytics data in the database.
Rank Math can also install the Google Analytics tracking code for you by simply switching on a button. Be aware, however, that very important settings, such as the ability to anonymize IP tracking, are not avalailable in the free version. You need that for the GDPR, so I would advise using a different solution if you are subject to this law.
Once configured, Rank Math will start displaying your data in the Analytics menu.
You will see your overall SEO score and the most important information like impressions, CTR, etc. In the free version, you only have access to SEO Performance and Keywords, which basically show your Google Search Console data and the average rank of your keywords.
Finally, there is also a simplified version of this data in the WordPress dashboard.
Make Sweeping Adjustments With the Global Meta Settings
Besides options to configure titles, descriptions, and search appearance per page, the plugin also has options for making global changes. You find those under Titles & Meta.
Here are the main features this section offers (some of which are only available in the advanced mode):
Configure search and social appearance for the homepage
Set title and description templates as well as the default Schema type for posts, pages, categories, tags, and attachment pages
Set global meta tags, the default separator character for titles, and fallback images
Include information for Knowledge Graph and local SEO like your organization's name and contact information
Prevent empty and non-necessary archives from being indexed
Appearance and SEO settings for archives and other pages like the 404 error page
Determine where to use the Rank Math meta box and where to disable it
Rank Math Role Manager — Control Who Can Do What
Under Role Manager, you have the ability to determine who can do what on your site in terms of SEO settings in a very granular fashion.
If you chose Advanced in the onboarding client, you will already have seen it. With simple check marks, you can enable and disable access to certain Rank Math features and capabilities for all user roles on your site. It's very well designed and easy to use and also comes with sensible out-of-the-box settings, so you can often leave everything as is.
404 Monitor and Redirections: Avoid Leaving Visitors Stranded
Next up, we have two options called 404 Monitor and Redirections. These are very useful tools that are often part of premium plugin versions or that you need a separate plugin for. Here, they are included for free.
In the 404 monitor, Rank Math records whenever a site visitor tries to access a page that doesn't exist (and thus gets a 404 error code).
It's good to know about this because it might be a broken link that loses you a lot of visitors. When that appears to be the case, you can fix the situation in the Redirections menu, where you can set up redirects from one page to another.
This is great for things like combining several posts into one where you need to send visitors and search engines to the new, larger article. Another example is when you remove a page or post completely, you can then use this to have visitors land on a page that might still be useful to them. This also helps with updating the search index.
Rank Math Admin Bar Menu
Like other plugins on this list, Rank Math also places a few options in the WordPress admin bar. When you hover over its menu in the back end, it gives you links to the Rank Math dashboard, analytics menu, 404 monitor, and the redirections feature and its settings.
On the front end of your site, it contains a few more options. First of all, you find a link to edit the global SEO settings of whatever content type you are currently viewing, be it a post, category archive, the homepage, or else.
Furthermore, the Redirections menu item gives you the option to choose Redirect this page, which brings you to a menu where you can do so with the information for the page already filled in.
You also get a shortcut to mark the page you are on as pillar content as well as noindex or nofollow.
Finally, the Rank Math admin menu lets you send the page in question to a similar range of external tools as seen in Yoast. Among them are Google's PageSpeed Insights, mobile-friendly test, and rich results tester, as well as the Facebook debugger.
Again, lots of useful quick actions here and a great little detail.
Miscellaneous Rank Math Features
Here are the remaining features that makes Rank Math one of the best WordPress SEO plugins:
Sitemap — Like most plugins on this list, Rank Math creates a sitemap. You can find it under yoursite.com/sitemap_index.xml. In the accompanying menu you have all the expected settings to determine what's in it and what's not. There is also an Instant Indexing feature where, after registering, you have the ability to instantly submit new content to the Bing search index.
Image SEO — A smaller option that allows you to have Rank Math automatically add ALT tags and title attributes to your images. You can configure it as needed with variables.
Breadcrumbs — Rank Math provides you with a code snippet to add breadcrumbs to your posts and pages for easier navigation. It also has extensive configuration options for their appearance.
Status & Tools — Roll back the plugin version, control automatic updates, flush the database, import, export, and back up plugin settings, and more.
In the settings can also remove the /category/ base from your archives, connect to webmaster tools of different platforms, edit robots.txt and .htaccess, and other, smaller changes. Finally, Rank Math has modules to make the plugin work with Advanced Custom fields, Google's AMP, bbPress, BuddyPress, Google Web Stories, and WooCommerce.
Rank Math Premium: Features and Pricing
As is common, Rank Math also offers a premium version of their plugin.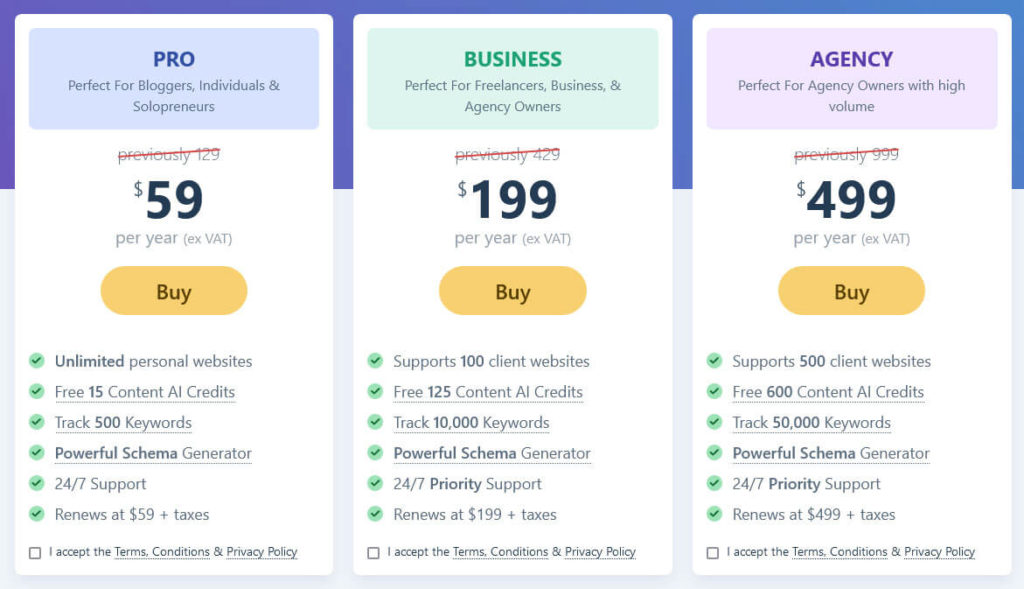 It comes in three flavors: Pro for $59/year plus taxes, Business for $199, and Agency for $499. You can use the first one on an unlimited number of personal websites, the second comes with support for up to 100 client websites, and the third supports up to 500. Here's what else you get:
Brand new feature: A keyword rank tracker. Track 500 keywords on Pro, 10,000 on Business, and 50,000 on Agency. Find your best and worst performing keywords and posts and benefit from keyword tracking for each post (including ranking history).
Credits for Content AI. 15, 125, or 600 per year, depending on which plan you choose. You can allocate them among all websites under your account.
Advanced content SEO analysis, bulk editing, image SEO (e.g. automatic image captions), and ecommerce SEO (WooCommerce and Easy Digital Downloads).
Additional sitemaps for Google News and Google Video.
A more advanced Schema generator, six additional Schema types, a custom Schema builder, the ability to set multiple Schemas, import Schemas, and validate it via Google.
Advanced Google Analytics and Google Trends integration with more frequent data fetch and longer storage.
Page speed and SEO performance tracking for your content.
Local SEO support for multiple locations.
Email reports for your SEO performance. Their frequency depends on your plan (every seven, 15, or 30 days).
There are actually a couple more options that you can check out on their page but this is the main gist.
Pros and Cons, Final Verdict
Here, too, it's time to go over the pros and cons of Rank Math and deliver a final ruling. Let's start with the positives:
Great user interface, a pleasure to use, clean, and fast loading — everything you could wish for.
Very little advertisement, basically only for features that are not available in the free version (which are few) and in the sidebar of the content analysis.
Site and page analysis tools make optimizing your entire site and individual pages a cinch. Content AI is a great bonus on top of the already powerful options.
Very powerful role manager
Features that you usually need to pay for are available for free like the 404 monitor and redirections modules.
Lots of useful small features like the ability to easily install Google Analytics code and the modular makeup.
On the other hand, the negatives are very few and also mostly small:
On-page analysis can do exact match for the focus keyword only, no fuzzy logic (this is, by far, my biggest issue with this plugin).
Having the analysis tool in the editor sidebar only is a bit small, offering a larger meta box at the bottom would be a great help.
When you want to change the focus keyword among several, you have to delete all of them and start from the beginning.
The link suggestion tool would be more useful if it was not limited to pillar content. Also, as mentioned, the copy and insert icons didn't work for me.
I think the way Content AI credits are managed currently is a bad idea. Personally, I don't want to have to upgrade to a plan that is three times as expensive just to get more and also pay for things I don't really need. An option to allow purchasing packs of credits separately would be so much better.
Some smaller UI problems.
Overall, I am positively surprised by this plugin. I had never used it before reviewing it and was an eye-opening experience. Rank Math delivers incredible value for a free plugin. It has loads of features, is really well designed, and a joy to use. I might just buy the premium version merely from testing the free edition.
SEOPress has a relatively small user base with 100,000+ active installs. However, its users are big fans of the plugin, 95% of those who rate it give SEOPress five stars. In the following, we will examine what they like so much.
SEOPress: Setup and Options
After the installation, nothing much happens at first except for new menu items that show up in the admin bar and WordPress sidebar. However, then you click on either, you find calls to action to start the installation wizard.
If you do, it takes you through familiar steps: data import from other SEO plugins, configuration of the title tag structure and Knowledge Graph data, indexing options for content types and archives, and display settings for SEO data and tools in the WordPress back end.
After that, you land on the main dashboard, which consists of two main parts: the notifications center and a feature control panel.
On the left, you find a list of tasks to do in order to make your site more optimized. It includes things like adjusting some SEOPress settings, connecting to Google Search Console, or setting up an SSL certificate. SEOPress also provides buttons that take you to where in the WordPress back end or elsewhere you can complete the tasks.
On the right, you find a feed of the latest posts from the SEOPress blog and, below that, the feature controls. The latter allow you to switch certain features on and off, depending on whether you need them or not. Just click on the sliders to disable and enable them. A click on each options takes you to the features' submenus, where you can also do this.
Finally, in the top bar you find two options: Display allows you to switch off the notifications center and SEO news, Documentation opens the searchable knowledge base with links to the online documentation.
Standout Feature: SEO Metabox
The best feature of SEOPress is its on-page SEO module at the bottom of the WordPress editor (not in the sidebar, mind you). If you are using the Gutenberg editor, you also have the option to enable the universal SEO metabox under Advanced > Appearance (there is also a prompt for this in the installation wizard). When you do so, you will find a toggle in the editor that allows you to switch on and off a version of the metabox that stays fixed at the bottom of the screen and moves along when scrolling. It is also expandable, making it easier to view its information.
In the box, you find many of the same features that we have already seen in other plugins. Therefore, we will go over them relatively quickly and only point out things that are special to SEOPress' approach.
First of all, you have the option to customize the SEO title and meta description for each post or page, including a preview of what it will look like.
If nothing is present, you will see a preview of the title and description as configured in the global settings. A cool thing: you get length indicators in both pixels, percentage, and characters to keep you within the right dimensions.
Also, if you are using variables to create the title, SEOPress shows the most common ones at the bottom. That way, you can add them with a single click (there are more in the drop-down menu).
The metabox also contains the content analysis. Input one or more focus keywords and SEOPress will show you how well you have optimized your content for them via a checklist and indicators from green to red.
Click to expand each point and get more information. You can also use the Expand/Close buttons to do so for all of them at once.
Curiously this detailed version is not available in the universal SEO metabox. You can currently only see it when you switch back to the old metabox that resides at the bottom of the editor. In the metabox that scrolls along, you only get a very basic version that isn't much help.
SEOPress looks for the usual things, like having the focus keyword inside headings and the permalink, keyword density, meta title and description length, and more. What stands out is that SEOPress' analysis tool also looks for Schema data (if any is present), when the content was last modified (not older than a year, to make sure it's fresh), active meta tags, and social media data filled in.
Speaking of which, under Social, you have options to set a custom title, description, and image for Facebook and Twitter (though a number of other platforms use the Facebook data as well).
Advanced lets you configure important meta tags, define a canonical URL, and primary category (so the plugin uses the right one for the archive).
You also have a Redirection tab where you can set up redirects to another page.
Finally, you can also review and change some of this data in your Posts and Pages menu.
As is visible, the plugin displays the SEO title, description, target keyword, and an overall score. You can also customize it (under Advanced > Appearance) to show additional information like when a page is set to noindex or nofollow, the number of words on the page, and its redirect URL.
The cool thing is, when you hover over the post title and click Quick Edit, you can change all of this right in the WordPress menu.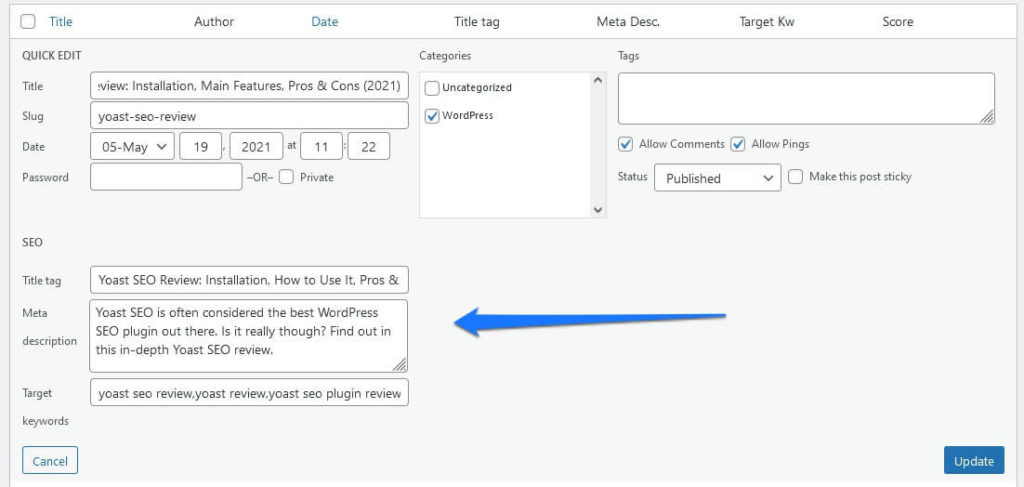 Use the Screen Options in case you can't see all this feature.
Additional SEOPress Features
After this, it's time to go over the other options available in SEOPress.
Configure Titles & Metas for Your Content
In the Titles & Metas menu, you find all the options to set default title and description formats for your content. You can also control indexing and configure meta tags for archives and your site as a whole.
Under Home, you can choose a separator symbol and control the title and description for your homepage.
As you can see above, this works the same way as we already covered for the metabox and individual content pieces. You can do it manually or via variables.
Single Post Types, Archives, and Taxonomies contain similar options for your posts, pages, archives, and 404 error page.
In addition, these submenus come with checkboxes to set content to noindex, nofollow, and some other options (archives don't have all of these settings). You can also disable the SEOPress metabox for chosen content types via a slider at the top of each section. Note that SEOPress sets some archives, like those for dates and authors, to noindex by default.
Finally, under Advanced, you have the possibility to control meta tags for your site as a whole. This includes some advanced options like disabling the site search box and asking not to index paginated archive pages and attachment pages.
Control Your Appearance in Social Networks
You find similar settings to the above but for social media under Social Networks.
Fill in the information for Knowledge Graph on the first page such as the name of your organization, logo, and contact details. In addition, under Your social accounts, you can list which social profiles belong to your site.
Facebook (Open Graph), on the other hand, contains options to customize data for social networks that use the Open Graph format.
This includes the ability to set a default image and how to use it, as well as different Facebook IDs. The final option is Twitter (Twitter Card). As the name suggests, here you can define a default image for Twitter and pick a Twitter card size as well as determine to use Open Graph data if the Twitter information is missing.
Go Over Sitemap Settings
As is common among the best WordPress SEO plugins, SEOPress creates a sitemap and also gives you plenty of options to customize it (under XML / HTML Sitemap).
It has the usual options such as to enable/disable the sitemap and control what to include in it. You can also ping Google manually and flush permalinks to update it.
A standout feature here, though, is the ability to switch on an HTML sitemap as well. In contrast to the XML variety, it is for visitors, not search engines. If you do decide to use it, under HTML Sitemap, you find options to customize it.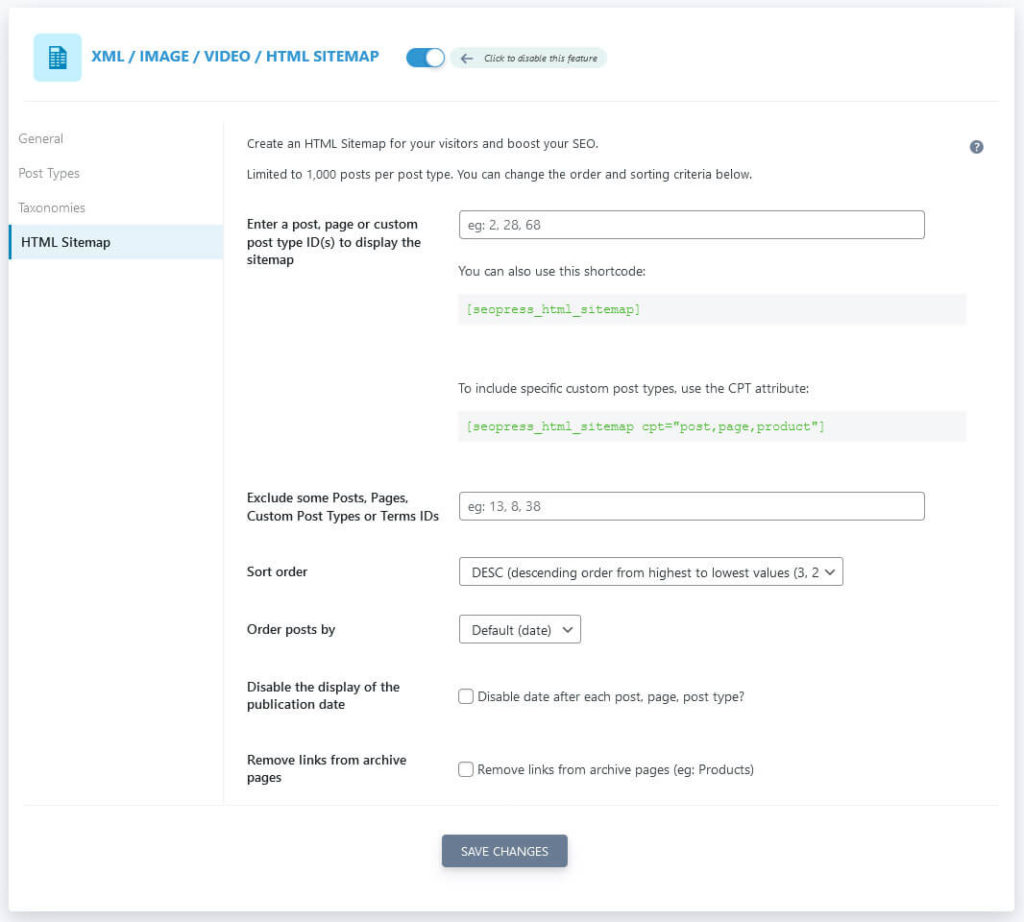 You can enter ids for where to display it and pages you want to exclude from it. You may also determine its sorting and sort order, and some more. In addition, you find a shortcode to display the HTML sitemap wherever you want in this menu.
Connect and Configure Web Analytics
SEOPress also offers a lot of options to integrate your website with web analytics. Specifically Google Analytics and the more privacy friendly Matomo. You find all of that in the Analytics menu.
As you can see, it enables you to add a tracking script to your site very easily. Just check the box, add your tracking or measurement ID (in case you are already using Google Analytics 4), and determine which user roles to exclude from tracking.
You can then further customize tracking with the following submenus:
Tracking — Set up A/B testing, include other tracking codes such as Facebook Pixel and where to place them, anonymize user IP addresses (the most important setting), and more.
Event — Allows you to track events on your website.
Custom dimensions — Create custom dimensions in order to track them with either Google Analytics or Matomo.
Matomo — If you use Matomo as your analytics suite of choice, this page has all the options to activate and configure it.
A standout feature in this section is that SEOPress comes with the option to create an opt-in bar for the analytics tracking cookies on your site to make it GDPR compliant. Here's what the bar looks like on the page:
You find customization options for it under Cookie bar / GDPR.
They allow you to determine where to place the code, configure opt-in options, messages, labels, and cookie durations as well as the design (cookie bar placement, text alignment, width, background and text colors).
Pay Attention to SEOPress Advanced Options
The Advanced menu houses a mix of different options.
Image SEO — Options for handling images on your site. Redirect attachment pages to the file or page that contains the image, clean up code issues, and automatically generate image titles, ALT texts, captions, and descriptions from the file name or focus keyword.
Advanced — A lot of options to clean up code output, the ability to remove the /category/ base from URLs, enter verification codes for Google's and Bing's webmaster tools, Pinterest, and Yandex.
Appearance — Customize information that the plugin shows you. For example, remove it from the admin bar, configure the placement of the SEO metabox, which columns to display in the Posts and Pages menus, and a lot more like that. Use it to customize the plugin to your needs.
Security — Fine-grain access control options like we have already seen in other plugins on this list (see Rank Math).
SEOPress Admin Bar Menu
Similar to what we have seen before, SEOPress also adds its own WordPress admin bar menu. In this case, it mostly gives you quick access to all the plugin menus as well as the configuration wizard.
What's cool, however, is that when you hover over it while in the menu of any content type in the WordPress back end (posts, pages, media, etc.), it shows you whether this particular variety has been globally set to noindex or nofollow.
What's more, when you click on the indicators, it takes you to that content's settings section in the Titles & Metas menu. While this is not a crucial feature, it does show attention to detail.
Check Out SEOPress' SEO Tools
Finally, we have SEO Tools.
Here's what this menu contains:
Compatibility Center — Make the plugin compatible with common page builder plugins.
Settings — Import and export plugin settings.
Plugins — Allows you to import SEO data from other plugins you might have used on your site before.
Reset — Cycle back all SEOPress settings and notices.
SEOPress Premium: Features and Pricing
SEOPress also offers its plugin as a premium version called SEOPress Pro.
The first thing that stands out is that it's very affordable. For $39 you get a year of updates and support and can use the plugin on an unlimited number of sites. SEOPress will also renew at the same cost you paid initially, even if the price changed in the meanwhile. More than fair conditions by the looks of it.
Here's what the premium addition has in store additionally:
404 monitoring and the ability to set 301 redirects (also importable as a CSV file)
Automatic redirect suggestions
Broken link checker
Breadcrumbs
Editors for robots.txt and .htaccess
WooCommerce and Easy Digital Downloads support
Google News and Video sitemaps
Google structured data types, Dublin Core, and custom Schema data
Enhanced ecommerce data for Google Analytics
Web analytics stats in your dashboard
Ability to import and export SEO and redirection data
Option for whitelabeling
Here, again, we have a bit of a problem that the sales page contains a lot of buzzwords without explaining what they mean. Some of the above is my interpretation from what it says in the description. There is also Google Local Business, Google Suggest, Google Page Speed, and URL rewriting. While I have ideas what that probably is, I'm not 100% certain.
SEOPress also has another premium tool called SEOPress Insights. It provides features like tracking keyword positions and monitoring backlinks. It's $99/year but you can get it for cheaper with a Pro subscription.
Pros and Cons, Final Verdict
Now, the only thing that's left to do is talk about the pros and cons of SEOPress and give a final verdict. Here's what's in the "pros" column:
Clean, spacious , pleasant-to-use user interface (including the feature manager)
Onboarding wizard and notifications center help optimize the entire site
Comprehensive, powerful, well-made SEO metabox and very detailed content analysis
More than one analytics solution and configureable cookie bar
Very fair pricing and conditions for premium version
As for the cons:
Documentation is very spotty, missing a bunch of explanations, a problem I repeatedly ran into during the review.
The content analysis in the scrolling metabox is not very useful. Switching to the version at the bottom of the screen just for that is tedious and results in a lot of scrolling back and forth when making changes to the content and wanting to see its results.
Content analysis design could be a bit easier to use and less overwhelming in terms of information display
Some features were not working: Entering several keywords didn't have any effect on the analysis, automatically generating image descriptions, captions, etc. didn't work for me either.
The Pro version sales page could be more specific
Despite the above, we are talking about a very solid, well-made plugin with a strong list of features. SEOPress is straightforward to use and, while it doesn't have a lot of frills, does its job very well. Expect for the lacking documentation, the cons are all relatively minor and mostly about usability and design than functionality.
In the end, it's a great lean product that's definitely among the best SEO WordPress plugins. I can understand why its user base likes it so much.
This is a plugin that, before reviewing it, I had never used before in my life. Consequently, I could approach it with no preconceived notions. The first impression was very promising. The SEO Framework (TSF) has a smaller user base (100,000+ installations) but great ratings (4.9/5 stars). Also, as you will see below, it takes a slightly different approach to search engine optimization than most of the other entries in this best-of WordPress SEO plugins list.
The SEO Framework: Setup and Options
A major difference to other plugins is that TSF does not come with an installation wizard. Instead, after downloading and activating it on your site, it displays a link to their 5-minute setup guide.
The steps you are asked to take are also quite minimal: configure your homepage title and description, add a default and fallback image for social shares, configure basic Schema settings, and check the indexing status of your content.
That's it.
The reason why they do it this way is because the approach of The SEO Framework is actually quite minimal itself. Activating it automatically implements a lot of SEO best practices on your site without your doing. The stuff that you configure in the beginning is just what the plugin can not do by itself and thus where it needs your input. Everything else is pretty much taken care of.
Consequently, using The SEO Framework is mostly set it and forget it – at least that's the idea.
As for options, there are a bunch and they are all crammed together into a single menu called SEO.
It's broken down into different boxes but still ends up quite long. Also there is a bit of a lack of hints and other help (in addition, the documentation is a bit thin). The only thing you can do to make it more comfortable is to use the arrow symbols to move your most important settings further to the top.
Standout Feature: Automated Meta Descriptions
The SEO Framework comes with functionality like no other plugin on this list: automatically generated meta descriptions and titles. You can see both of them in the metabox at the bottom of the WordPress editor.
When you examine a page in the browser developer tools, you can also see them output in the source code.
Of course other plugins also create titles automatically from variables. The more impressive feat here are the meta descriptions, especially when you hear about the process behind it. The plugin basically takes the beginning of your post, strips it of non-needed data and formatting, preserves readability, and reduces it to the right length to fit the search snippet.
It's doing a pretty good job as well! Of course, this is not the same as writing a custom description but it's still pretty cool that you can just activate the plugin and – presto – all content on your site now has a meta description.
In addition, you also have the possibility to add one by hand, of course. Just fill in the field. In the same place, the plugin also has a simple checkbox that lets you strip your site name from the page title.
The SEO Framework: Additional Features
Alright, now let's go over the other main features of The SEO Framework.
A Strong Focus on Accessibility and Privacy
The first thing I want to talk about is a feature that is not very obvious or visible at first. TSF puts great emphasis on accessibility. Its makers try hard to make the plugin usable for users of different abilities. For example, the color scheme is suitable for different visual impairments and the interface supports keyboard navigation and screen readers.
In addition, The SEO Framework also doesn't collect information and sends it back to the developers. There is also no branding in the interface, which is in stark contrast to other entries on this list that look a lot like billboards.
Finally, the makers of The SEO Framework also stress security and do their best to make the plugin as safe as possible. Most of this is going on behind the scenes and you wouldn't know if you didn't look for it or if doesn't concern you (e.g. as a screen reader user), but it's cool to see that this is such a big focus for them.
Control Social Appearance and Indexing of Individual Content
The same metabox that contains the title and meta description options also has two tabs called Social and Visibility.
They contain the options that we have come to expect from the best WordPress SEO plugins by now. Social contains these options:
Define an Open Graph and Twitter title and description (just like for the search title and description, TSF actually creates these automatically)
Include the link to a default social image
Visibility also comes with familiar settings:
Set up a canonical URL
Control robots meta settings like noindex, nofollow, etc.
Exclude post from search queries on your site and archives
Set a redirect to another piece of content
So far so ordinary. You can also find these settings, including options to set SEO titles and descriptions, for your category and tag archives.
SEO Indicators Tell You Which Content Needs Work
A lot of the plugins on this list add SEO information to the WordPress post and page menu in one form or another. The SEO Framework has a slightly different and more comprehensive approach.
As you can see, it has lots of colorful indicators that inform you of SEO issues for your content pieces and their severity. You can hover over any of them to get information about what the letters mean.
What will you learn? That your title and description are too long or short, whether there is an issue with indexing, follow/nofollow, archive/noarchive, and whether a redirect exists. This is super useful for a quick overview and check. The same exists for taxonomy archives such as categories and tags.
Use the Configuration Options for Automated Titles and Descriptions
Besides the option to manually override the automatic titles and descriptions that TSF creates, you can also configure how it creates them in the first place, at least to a point.
For titles, pick a separator symbol, whether to strip away HTML markup like bold or italics, place the site title in front or after search titles (or disable them completely), and control whether to display prefixes like Category: in archive titles.
So, your control over the output is mostly aesthetic.
On the other hand, for automatic meta descriptions, you only have the option to switch them on or off.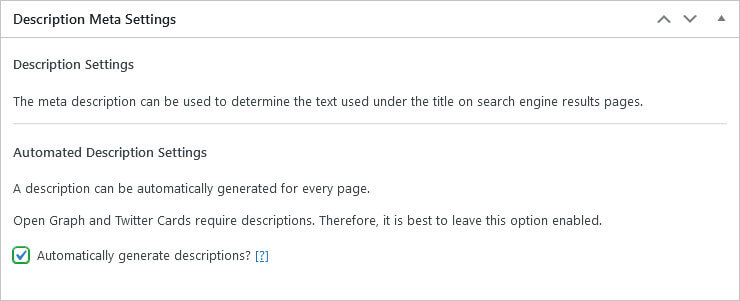 Other plugins offer more control in this regard. However, again, TSF's thing/appeal is that it automatically implements SEO best practices. This approach comes with more convenience but apparently less control.
Don't Forget to Optimize Your Homepage
The settings also have a configuration panel to control what the homepage will look like in search and social networks.
You get similar options as for individual content pieces in the WordPress editor:
An automatic title and description with the option to manually override them
Whether to use the tagline from the WordPress settings inside the page title
Open Graph and Twitter titles and descriptions, plus the ability to set a custom image for shares
robots.txt settings for the usual indexing and link follow settings
Miscellaneous TSF Settings
The rest of the settings that The SEO Framework offers are fairly standard, so I will summarize them quickly:
Social Meta Settings — Pick what social meta information your site should output, configure title settings and other information to be shared. Set default images and specific information for Facebook, Twitter, and Open Graph.
Schema.org Settings — Enable/disable breadcrumbs and the site search box in search results, whether to output data that might show up about you or your company, and configure it including a logo.
Robots Meta Settings — Keep fake archives out of search with advanced query protection, noindex paginated pages, limit the length of your meta descriptions, image size, and video preview length. Finally, set site content to noindex, nofollow, and/or noarchive.
Sitemap Settings — TSF creates a sitemap for you. You can enable and disable it, limit queries to the database for performance, and add its location to robots.txt to let search engines know about it. You may also include the <lastmod> tag to inform search spiders which content to index first, decide whether to automatically ping search engines on update as well as style the sitemap and add a logo for your human visitors.
Webmaster Settings — Enter verification codes for different webmaster tools (Google, Bing, Yandex, Baidu, Pinterest) to connect your site to them.
Feed Settings — Limit the RSS feed length and automatically add a link back to your site to prevent scraping.
At times the settings are a bit technical. However, there are also sensible defaults for everything so your often don't really have to change anything.
The SEO Framework Premium: Features and Pricing
The SEO Framework does not have a premium version of the main plugin. Their business model is to offer premium addons for extra functionality. To use any of them, you need to install the extension manager and sign up to a premium plan.
The latter are available for a monthly fee of $7, $17, and $27. The higher the plan, the more sites you can use the premium plugins on, the more API requests you get per month, and the better your level of support. Besides that, there are also some free extensions, so installing the extension manager with the free plugin also makes sense.
Available Extensions
Pros and Cons, Final Verdict
So, is The SEO Framework the best WordPress SEO plugin? Let's see what strengths and weaknesses it has, starting with the strengths:
Great out-of-the-box settings that automatically improve your site upon activation
Automatic page titles and descriptions, a unique feature not found in any of the other plugins
Strong focus on accessibility, user privacy, and no annoying ads
Super useful and informative SEO indicators
As for what could be improved:
All settings are in one place and many of them are quite technical, which easily leads to overwhelm and is a bit confusing. However, as the developers ensured me, if a user doesn't understand a setting, they probably shouldn't touch it, the default options should be great as is for most sites.
The documentation is a bit weak
Some of the extensions contain features that are baked into other plugins by default. I also tried to test the Focus extension for which there is supposed to be a free version but I could not find a way to make it work.
Altogether, The SEO Framework seems like a solid option. It has all the functionality to optimize your site and how it appears in search engines and social media. While it's a lot more barebones than other options, I believe the developers took great pains to implement SEO best practices and make a technically solid plugin.
Next up is a real veteran of the WordPress SEO plugin space: All in One SEO (aka AIOSEO and formerly known as All in One SEO Pack). It has been around since 2007 and in 2020 became part of Awesome Motive, the company that's also behind WPBeginner, MonsterInsights, and other ventures.
As I write this, AIOSEO has more than three million installs and an ok rating of 4.6/5.0 stars. Back when I wrote my individual review of All in One SEO Pack, it was still at 4.7 stars so it has gone down a bit. Let's have a look at the features to see what might be the reason for that.
All in One SEO: Setup and Options
AIOSEO, too, has an oboarding client that automatically starts when you activate the plugin for the first time.
As is common, it walks you through some of the most important SEO settings, such as:
Homepage title and description as well as Open Graph data
Site indexing, sitemap enabled yes/no, number of authors, attachment page redirection
Be careful though, the wizard also goes through a list of optional features you can switch on, some of which install additional plugins from the same company without warning. Make sure to read the fine print!
Once setup is complete, you will land on the main plugin dashboard.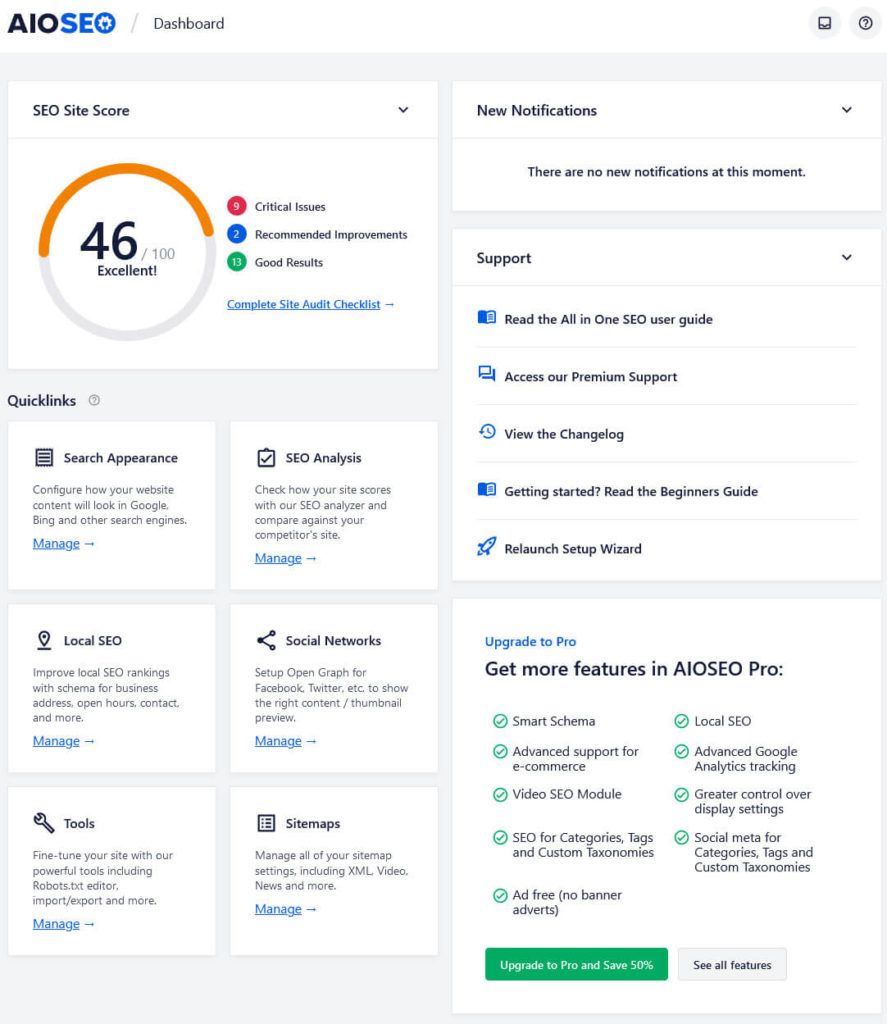 Here, you have an overview of the SEO status of your site and access to the plugin options. As you can see, there is a site score at the top that indicates the overall optimization level. You also find notifications, access to support resources (click the question mark in the top bar for a searchable help section), quick links to different parts of the plugin, and upsells for the premium version.
The plugin options are also divided into several menu sections, which, in turn, often contain several tabs (you can find the same in the admin bar).
So, there is lots of functionality to discover, which we will do next.
Standout Feature: SEO Site Audit and Competitor Analysis
As already hinted at with the SEO score on the dashboard above, All in One SEO offers a review of your site's overall optimization level for search engines. You find it under the SEO Analysis menu.
First, it indicates how well you score in terms of optimization at the top and the main keywords of your homepage. More importantly, it gives you a detailed list of how well you are doing in different areas of SEO performance and also how to improve if you are behind.
It's divided into Basic SEO, Advanced SEO, Performance, and Security. The plugin will tell you if you have meta descriptions missing, no robots.txt, or if Google has flagged you for malware.
You can also filter everything for critical issues, recommendations, and passed tests via the tabs at the top.
Click the arrow icon to receive tips on how to fix an issue and also, if available, a link to where you can do so.
In addition, under Competitor Analysis at the top, you can run the same audit for any competitor page.
Enter the address, hit Analyze and receive almost the same information as you did for your own website including an overall score, mobile snapshot, preview of the search snippet, keywords, and SEO indicators.
This gives you lots of input how you can improve your page in order to create a better result than the competitor page. The plugin also saves all searches you did in the past for later reference.
Additional Features You Can Find in All in One SEO
Besides what we have already mentioned, All in One SEO has some more things to offer.
Us the Headline Analyzer to Optimize Your Title
A recent addition to the plugin is the headline analyzer. With All in One SEO installed, it shows up in the sidebar of the WordPress editor under a separate menu.
When you have entered a post title, it will give you feedback on its quality. You will see an overall score (that also shows up in the header section). Below that is a breakdown about what's good a not so good about your chosen headline:
Usage of common, uncommon, emotional, and power words
Whether the headline has a positive, neutral, or negative sentiment
The type of the headline (list, how-to, etc.)
Character and word count
Beginning and ending words of the headline
Preview of the search snippet
The tool will also let you know whether there is something you can improve, e.g. if it deems the headline too long. Plus, if you used a different headline before, it will show the older versions including their scores so you can compare.
Finally, there is a second tab called Try New Headline where you can enter a different title idea and have AIOSEO analyze it in the same way. The tool will also tell you the score difference to your current headline so you can decide whether you want to switch.
Overall, this seems like a cool feature. I ran some tests and the advice looks reasonable so I would be curious to see if it makes a difference in real life. My only point of critique is that the headline analyzer is squashed into the sidebar. It would be easier to use if you could also access it at the bottom of the editor like the rest of the on-page tools (more on that below).
Configure Your Content's Search Appearance
The Search Appearance menu allows you to control what your content will look like in search engines. The first page lets you choose a separator symbol and set a custom title and description for the homepage.
You can also enter Knowledge Graph information like whether your site belongs to an organization or person plus the name, logo, contact information, that sort of thing. If it's a person, you can choose either a user on your site or manually enter a name.
Under Content Types, Taxonomies, and Archives you have basically the same settings for different content types.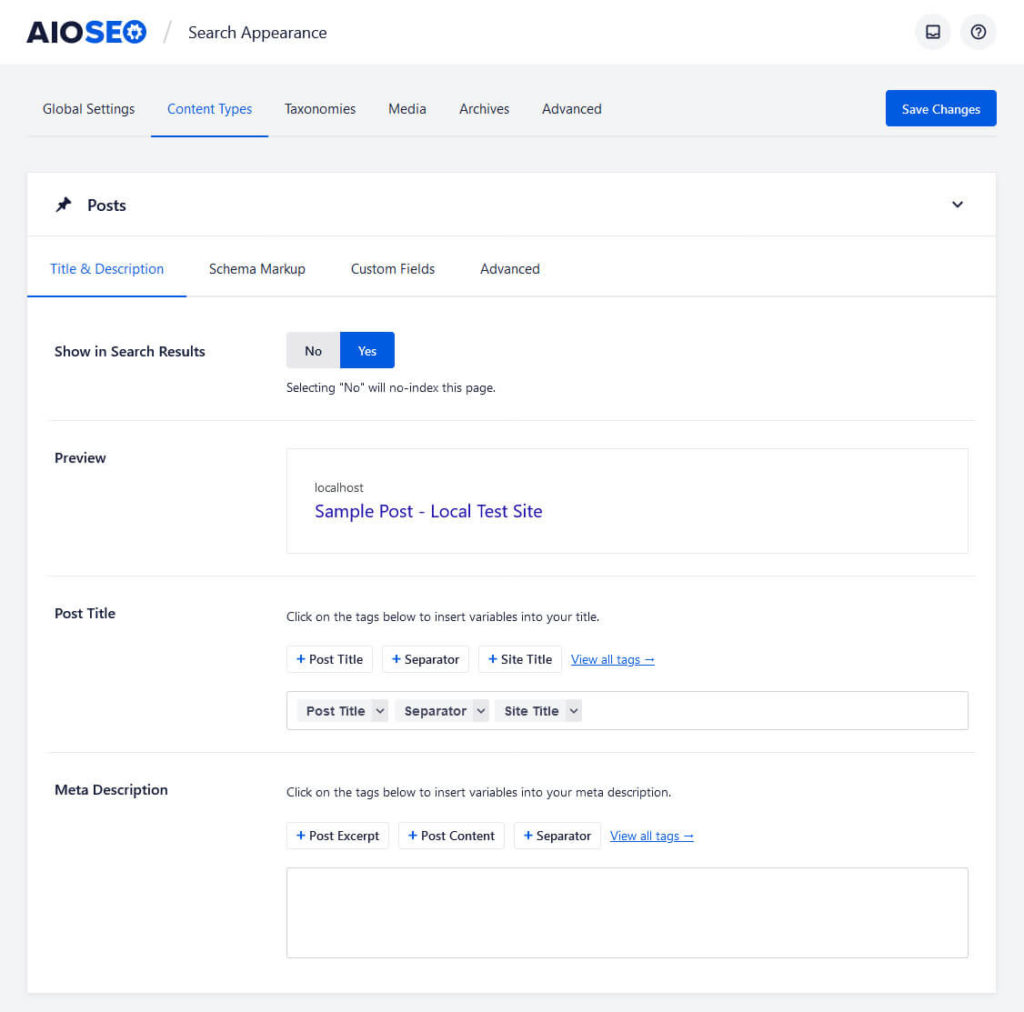 Decide on indexing or non-indexing, the structure for automatic title and meta descriptions, and robots meta settings. You can also choose whether to enable the AIOSEO meta box for configuring their custom search appearance.
The Schema Markup and Custom Fields settings are reserved for premium users. Media only lets you determine where to redirect media links – at least in the free plugin version. At last, Advanced has options to configure robots meta settings on a global level. It also lets you enable/disable the search results search box and configure settings for pagination and meta keywords.
Deal With Global Social Settings
All in One SEO pretty much offers the same settings as above for your site's appearance in social media networks as well. You can find them under Social Media in the plugin menu.
It's basically the same as above. You can define things like your homepage title and description, default images, and other information that should and should not appear when your content gets shared on social. The previews let you check if you are satisfied with the end result.
What's noteworthy is that the menu also contains the option to define social networks that belong to your site. That way, they can show up in search results. A very useful feature is that AIOSEO allows you to input a handle once and then simply check the boxes for which social platforms you are using it.
Set Up SEO Titles and Meta Descriptions
As you have already seen, a common feature among the best WordPress SEO plugins is the ability to control search and social appearance by letting you set custom titles and descriptions. All in One SEO is no exception. It offers this functionality at the bottom and in the sidebar of the WordPress editor.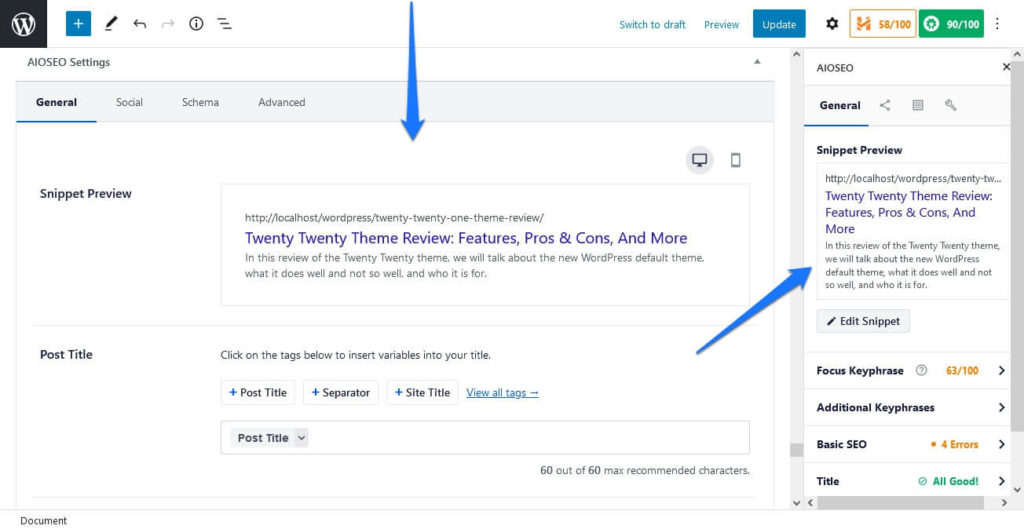 As before, you can do this either by manually keying in your title and description or using variables to automatically add certain information. There is also a preview available that you can switch between desktop and mobile view.
The same options are available for social networks under Social plus the ability to add a custom image and other pertinent information.
In contrast to, for example, Yoast SEO, you also get a social preview in the free plugin version including mobile view.
In addition, you have Advanced options for setting canonical URL, noindex, nofollow, and more.
All of this is available for posts and pages for free. If you want similar options for your archives and other content, you need to purchase the premium version. The Schema menu visible above is also only available for paid users.
Use the On-Page SEO and Readability Analysis for Better Content
Like other entries on this list, AIOSEO also has an analysis module for on-page SEO.
As usual, you enter the focus keyword to see how well optimized your post is for it. The plugin checks for its presence in the title, description, intro, headings, and other places as well as other SEO markers (internal and external links, title length, etc.). Tips for improvement will then show up both at the bottom of the WordPress editor and in a separate sidebar.
You also get an optimization score for the focus keyword and an overall score in the upper right corner.
In addition, the plugin gives you feedback on your content's readability under a tab of the same name.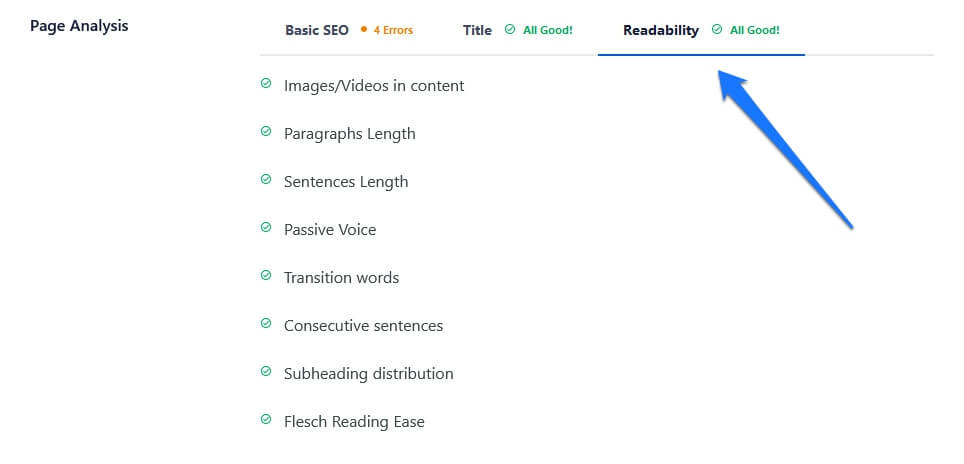 It checks if you have visuals in your content, how long your sentences and paragraphs are, your use of passive voice, overall reading difficulty, and more.
Finally, you can also see the overall optimization score as well as SEO titles and descriptions in your list of posts and pages.
Create and Configure a Sitemap
The plugin automatically creates a sitemap. In the Sitemaps menu, you can fine tune what it contains: how many links, which content, and its crawl priority.
You can also completely disable the sitemap and configure an RSS sitemap with the latest content in the same place. Under Additional Pages it even lets you include external pages that are not located under your own domain.
A recent new addition is the ability to set up an HTML sitemap, which you find under a menu of the same name.
HTML sitemaps are intended for real-life visitors rather than search spiders. They help users gain an overview of the content available on your site. Simply enable it (it's active by default) and configure what to include at the bottom of the menu.
At the top, All in One SEO then gives you several options to include the sitemap in your pages. Pick a dedicated page (that you need to create yourself, AIOSEO will not do it for you), copy the shortcode or PHP snippet, or use the available Gutenberg block or widget.
Once you have inserted it somewhere, here's what the sitemap looks like:
Miscellaneous AIOSEO Features
Aside from the main features above, there are also a few more things that All in One SEO can do:
Breadcrumbs — In General Settings > Breadcrumbs, you have the ability to set up breadcrumbs for your site. This works similarly to HTML sitemaps. The plugin gives you different options to add them to your site (via shortcode, Gutenberg block, code, or widget) and plenty of settings to configure their appearance.
Admin bar menu — AIOSEO also adds its own menu to the WordPress admin bar. When you access it on the front end, it allows you to send the current page to a number of services for testing. It's basically the same options as in Yoast SEO plus the LinkedIn Post Inspector. The menu also gives you access to all submenus of All in One SEO.
Connect to webmaster tools — Under General Settings > Webmaster Tools, you have the possibility to enter verification codes for Google, Bing, Yandex, Baidu, and Pinterest.
SEO tools — In Tools, the plugin provides things like an editor for robots.txt and .htaccess, the possibility to import and export settings, reset parts or all of the SEO settings in the database, and view the system status.
That's it for the free version, let's now talk about the premium edition.
All in One SEO Premium: Pricing and Features
As most other plugins on this list, AIOSEO also offers a paid version. In this case, it comes in four varieties: Basic, Plus, Pro, and Elite. Each increases the number of websites you can use the plugin on (one, three, ten, a hundred). The yearly costs for each plan are $49.50, $99.50, $199.50, and $299.50 when you first sign up (there is a 14-day money back guarantee). Be aware, however, that the price doubles at renewal.
Here's what you get in terms of extra features for all licenses:
Unlimited keywords
Advanced SEO modules
WooCommerce SEO settings for online shops
Social media integration
TruSEO page analysis tool
Custom breadcrumbs
Smart Schema markup
Access control to your site's SEO settings for different user roles
In addition, from the Plus tier and above, you get functionality for local and image SEO. Pro plans add Google News and video sitemaps, a redirection manger, 404 error tracking, as well as priority support to the mix. As an Elite customer, you additionally get multisite support, client management, and premium customer service.
However, be aware that the sales page, yet again, doesn't really explain what these features exactly contain. For some of them, I have no idea what they mean. In addition, some of the features mentioned for the premium version already seem available in the free edition, so color me confused.
Pros and Cons, Final Verdict
Cool, now that we know what the plugin has to offer, let's summarize what it does and doesn't do well. Here's what I liked about All in One SEO:
Great, modern design that makes it a pleasure to work with
Impressive SEO auditing tool, especially together with the competitor analysis
Solid options to customize the search appearance of content on an individual basis, including a detailed analysis tool to improve your headlines
Previews for social media appearance, which are a paid feature in other plugins
Detailed sitemap and breadcrumbs configuration options
However, there are also a bunch of things that weren't so great:
All in One SEO Pack installs additional plugins without much warning during the setup wizard
Lots of upsells and blocked features in the free version, it would be better to exclude those entirely instead of showing a bunch of unusable menu items
The readability analysis would be more useful if there was an option to highlight issues in the text
The prices for the premium features are, in all honesty, a bit steep. Especially when compared with what you get from other plugins on this list, even in the free version
So, is AIOSEO a solid plugin? Absolutely. Is it the best WordPress SEO plugin? Doubtful. While it has all the necessary functionality and looks pretty great, I think there are other contenders that deliver equal or more value with both their free and premium versions at a better price.
I also have problems with their user experience. From installing plugins during setup over high renewal prices, the focus seems a bit too much on sales rather than convincing users that the plugin is worth it. I am not surprised their rating has gone down between this article and my individual review.
Another plugin I had personally never used until I reviewed it is Squirrly SEO. It has more than 100,000 users and 4.6 stars out of 5 in the WordPress directory. The plugin puts great emphasis on AI and machine-learning-based SEO tools. It's also the only one on this list that you can use as a supplement together with other plugins, not solely as your primary SEO solution.
Squirrly SEO: Setup and Options
The first thing Squirrly SEO will do after installation is to ask you to create an account. Without one, you can't use most of its features since you need to be connected to the Squirrly servers for them. The email you use for this is also where the plugin will send regular reports, tips, and more.
After a mandatory ask to import other SEO plugin settings, Squirrly will run your site through an SEO analysis and you will land on the main dashboard.
It offers a lot of options, many of which, like the SEO audit and goals, we will get into in detail below. There are also some optional ones such as taking their 14-day challenge.
The most important part for now is the possibility to view and control the list of features at the bottom (you can also get their via the All Features menu item in the sidebar).
Here, you can see which features are active and have the ability to switch them on and off or learn more about them. Use Show Advanced SEO for a better overview, such as inactive features being grayed out. Most are enabled by default with a few exceptions like the connection to web analytics as well as local and image SEO settings.
Finally, at the top or in the WordPress sidebar and admin bar you find links to the Squirrly SEO submenus.
Standout Feature: SEO Audit
The feature that stands out in Squirrly SEO the most is that you can run your site pages through an SEO audit under a menu of the same name.
Click one of the Add new page buttons, then get started with the Add Page to Audit button on the next page.
The Squirrly audit compiles information from many sources, it so can take a while to complete. When it's done, you will see a result list like this:
It contains a detailed account of the SEO optimization of your page with an overall score and performance indicators in the areas of blogging, traffic, SEO, social media, links, and authority. Besides the overview, you can also scroll down or use the jump links on the left for a list of tasks to help you improve in each area.
It contains things like creating a sitemap, improving page speed, etc. Besides that, it also gives you a description of how to solve each particular issue and you also have the ability to filter by tests your page did and did not pass to make it easier to find the right ones.
In the free version, you are limited to one page test but the amount of information is quite impressive, detailed, actionable, and super useful. Plus, the plugin will send you weekly audit updates via email.
Additional Features of Squirrly SEO
Now, let's examine what else Squirrly SEO has to offer that makes it one of the best WordPress SEO plugins.
SEO Goals Keep You on Track
You might have already seen the SEO goals on the Squirrly dashboard. They also appear as notifications in the WordPress admin taskbar, sidebar, and in a widget on the main dashboard.
Tasks that Squirrly sets you include things like connecting to Google Search Console or Analytics, setting up focus pages, and creating internal links. For any given goal, you can click the Show me how button for instructions on how to achieve it. The plugin even has a button that takes you to the site or plugin option where you can make necessary changes.
Dismiss any tasks you don't want to do as done. While you get three goals per day by default, it's also possible to call for more goals when done. This is a really nice way of gamifying your site SEO and a great help, especially for beginner users. It's also free in Squirrly SEO, while similar features are only available in the premium version of other plugins.
Use the Live Assistant to Improve Your On-Page SEO
Squirrly SEO also comes with an on-page SEO analysis tool. Here, it's called Live Assistant and you find it in the editor screen either as a floating sidebar or as part of the normal editor sidebar.
It works as usual, input the keyword (or pull one from the briefcase, as you will see below) and the plugin will tell you the optimization level of your content for this keyphrase. For that, it checks keyword length, its presence in the title, URL, headings, ALT tags, and content, title length and if you are using images. Squirrly also asks you to bold your focus keyword in the text to emphasize it, a recommendation not given by any other WordPress SEO plugin on this list.
Basically, you want to try to get all indicators to turn green.
This is important because the goals are formulated in a way that if you just look at the text, you might think things are all good already.
For the inexperienced, Squirrly SEO has a tutorial content piece under Live Assistant > Practice/Test Round that shows you the ropes.
You can also see indicators for the optimization level of your posts and pages in the WordPress back end.
Finally, under Live Assistant > Settings, you can make some adjustments to how this feature behaves. You can decide whether to use it at all, configure its display options (free floating or as part of the existing sidebar), front-end display, some behavior, and where not to display it.
Perform Keyword Research Inside WordPress
Under Research, Squirrly SEO offers the possibility to do keyword research in the WordPress back end.
The process is as follows (just follow the instructions on the page):
Enter a two to three-word keyphrase
Select a country to do research for or global search
Pick from a list of long-tail keywords
Click Do Research
Squirrly SEO will then check the keyword for alternatives, competition, search volume, and some more markers. When done, it will give you a list of options like this:
As you can see above, when you hover over the three dots on the right, you have the option to add any keyword you like to the aforementioned briefcase or start creating a blog post on the topic immediately.
Speaking of briefcase, you find it under a menu of the same name on the left side.
Here, you find all your saved keywords so you can manage them.
Finally, you find three more options in the Research menu:
Labels — Categorize and color code saved keywords
Suggested — Automatic keyword suggestions based on existing keyphrases and your site's other SEO data
History — An archive of keywords you have researched in the last 30 days
The Rank Tracker Tells You How Your Site is Performing
Moving on to the Rankings menu which houses Squirrly SEO's rank tracking module.
You can pull in any keyword in your briefcase to track its search rank. The plugin uses data from Google Search Console to show the average search position, clicks, impressions, and CTR. You get additional data with a paid account, e.g. social shares.
Turn Your Most Important Content Into Focus Pages
Another feature that Squirrly SEO possesses is the ability to set focus pages. In fact, it's something that it will ask you to do as part of your SEO goals.
First of all, what are focus pages?
In short, they are the most important pages on your site that are a priority that you rank for them. When you define a page as a focus page (under the Focus Pages menu), the plugin runs them through a separate audit to determine how well optimized they are.
The audit will tell you things like your chance to rank, the page authority, number of backlinks, clicks, impressions, and CTR. Click on any marker to see a list of tasks in the sidebar on how to improve it. A click on individual tasks also gives you instructions on how to perform them and links to where you can do it.
Make Quick Changes to Your Content via Bulk SEO
Next up is Squirrly's bulk SEO option that you find under Bulk SEO or All Snippets.
It shows your optimization level in different areas like meta tags (meaning the SEO title and description), Open Graph data (social media titles, etc.), Twitter cards, and visibility (noindex and dofollow, link in sitemap, redirects).
Use the filters to sort by type of content and status, then hover over the dots to learn about any problems. A click on the red and green indicators allows you to make edits to all of this data right inside the menu.
This is a real time saver in comparison to editing posts and pages individually! Plus, you can access this feature for individual content pieces while on the front end of your site as well. Simply hover over Custom SEO in the upper right corner and make your changes right then and there.
Review Squirrly SEO Settings
Finally, let's go over the kind of settings the Squirrly plugin offers to improve your site SEO further. You find them under SEO Settings.
The settings are too numerous to cover here in detail so I will just go over some highlights:
Create patterns for the title structure of different content types, control indexing, and link following
Configure data Squirrly creates (metas, Open Graph, etc.) and decide which parts the plugin should automatically optimize
Redirect attachment pages to the image URL
Add nofollow to all external links and open them in new tabs/windows
Configure structured data like your company name, logo, description, address, etc.
Appearance options for social media, especially Facebook and Twitter
Connect to Google Analytics and Facebook Pixel and determine whether to track logged-in users
Connect to the webmaster tools of different search engines
Sitemap settings, such as what content to include and crawl settings
Squirrly SEO Premium: Features and Pricing
The free Squirrly plugin lets you optimize one website, set one page as a focus page, comes with limited keyword research requests, and gives you only one weekly SEO audit. You can check your user account to see how much you have left. If you want more than that, you have to upgrade to a paid plan.
The plugin offers three kinds of plans:
Pro ($29.99/month, first month $20.99)
Business ($71.99/month)
Agency ($75.99/month)
Each plan gives you more sites you can use Squirrly on and also more focus pages, keyword research requests, keyword ideas, audits, etc. They also come with an improved Live Assistant and Audit Suite that contain additional information. You can also benefit from better support.
The Business plan has some special features that sound good but I am unclear what's behind them. They include deep keyword research, advanced analytics, a top ranking pages leaderboard, on-demand rank checking, and rank checking via Squirrly Cloud instead of Google Search Console.
You can cancel your plans anytime and just use them on-demand.
Pros and Cons, Final Verdict
That was it for features, now it's time for the final verdict. First, let's go over the things that Squirrly SEO does well:
Offers features that you usually find in third-party software (rank tracker, keyword research)
Ability to save keywords for later use
Great site and page analysis tools with a lot of useful data
SEO goals and lots of guidance on how to make site improvements
Great documentation and in-plugin support architecture
On the other hand, there are also quite a few things that didn't really do it for me:
Feature list of the free edition is a bit thin, too little access to be truly useful
Information overload due to the amount of options in the back end
The Live Assistant positioning is impractical, free floating it gets in the way or otherwise it's at the bottom of an already long editor sidebar
Generally, the design is a bit cluttered, chaotic, antiquated, and doesn't integrate well into the WordPress back end
Too much information in general (the WordPress directory page is overloaded, the premium offer confusing, and I received eight emails with SEO tips in four days after signing up)
Overall, unfortunately, I see more cons than pros at this point. Squirrly SEO is a powerful plugin with a lot of great ideas and a treasure trove of information and tailored advice. Yet, it's just not very pleasant to use, quite overwhelming, and the environment in which it is embedded is a bit unstructured.
I really think they should invest more in marketing, copywriting, and design. The features and ideas are pretty much there, now they just need to make them more user accessible.
So, What is the Best WordPress SEO Plugin? Final Comparison
Now that have gone over all of the candidates for best WordPress SEO plugin, it's time to determine a winner. After all, you probably came here with the question of which SEO plugin you should use. So, who takes the crown and who do I think are the best options?
Best Options Overall: Yoast SEO and Rank Math
To make a long story short, in my opinion, the best WordPress SEO plugins overall are Yoast SEO and Rank Math. In terms of quality, features, user friendliness, and sheer SEO power, none of the others on this list can compare. If you install either of them, configure it right, and follow the advice given by their content analysis, I am confident you will end up with a well-optimized website.
So, choose one of these two and you can't go wrong.
I personally think that design wise and in terms of user experience, Rank Math is actually ahead of Yoast. If they fixed the thing about exact focus keyword matching, I'd give them the number one spot and put Yoast SEO in second place — just saying.
Best WordPress SEO Plugins for Beginners: SEOPress and The SEO Framework
Right after that, I would put SEOPress. It's a little leaner than the other two options but still has everything you need. Most importantly, SEOPress has one of the fairest premium offers, especially if you are running several websites. In that case, get you can get the Pro features for all of them for the price of a single site license. If that applies to you, it's definitely worth a look.
Finally, The SEO Framework is a really great option for beginners and those who like it simple. Just install it, follow the quick setup guide, and your site will automatically be configured to SEO best practices. The SEO Framework is very set-it-and-forget-it, which is great for anyone who doesn't really want to learn SEO but still improve their site.
And Then There Are…
The two plugins I can only give limited recommendation for are All in One SEO and Squirrly SEO. While the first one has an impressive feature list and works well enough, it feels a bit like their focus is more on selling than on user experience and creating value for their customers. There simply are better options out there as we have seen.
Squirrly, on the other hand, unfortunately has a whole bunch of usability issues that, in my opinion, don't make it the most fun to use. Also, a lot of its functionality is too limited in the free version to be really useful. The plugin has a lot of great ideas, they just haven't been packaged well enough.
Final Thoughts: Best WordPress SEO Plugins
So that's it, a detailed comparison of the best SEO plugins the WordPress sphere has to offer at the moment. While the entries above are quite similar in terms of basic functionality, the way that they present and implement it is not quite the same.
Of course, which is the best option also always depends on your needs, requirements, and personal taste. However, I hope you have learned enough in this to make this decision for yourself. If you want to read individual reviews of each plugin, you can find them here one more time:
Now all that's left to do is ask you to leave a comment telling me which WordPress SEO plugin you think is the best and why you chose it.
Which do you consider the best WordPress SEO plugin? Anything to add to the above? Let me know in the comments section below!